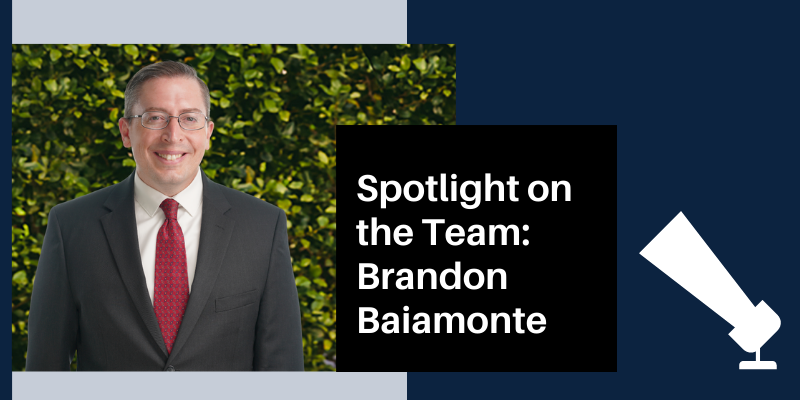 ---
Each month at Mission Wealth, we interview a new team member and publish the interview in a spotlight article. This month we talked with Director of Tax Strategy, Brandon Baiamonte, and learned about his upbringing, hobbies, and some financial advice. Learn more about Brandon in this interview.
---
Brandon Baiamonte serves as the Director of Tax Strategy for Mission Wealth and joined the team in 2021.
What are a few childhood experiences you had that formed who you are today?
Both my parents are quite frugal. They taught me at an early age how to budget and be thoughtful about how I spend money. We also traveled, hiked, and camped frequently – I still love the outdoors and am passionate about traveling to new places with my family.
How do you spend time outside of Mission Wealth?
I enjoy spending time with my wife and children and to get together with friends frequently. My wife and I travel internationally, every chance we get. My family also volunteers at our local church.
If you could offer any advice to your younger self, what would it be?
Success is more than how much money you make. Do something you love, that you are passionate about, and give it your all.
At Mission Wealth, we talk to people all the time about what their goals and aspirations are. So what's on your bucket list?
My goal is to travel to more than 100 countries. I also want to incorporate service and philanthropy more in my travels, and be able to help those who need it the most.
What kinds of issues do you help clients with and what kinds of unique services do you provide clients with to help them with these issues?
My goal is to help client advisors and their clients with tax strategy. Taxes can be a major expense for many of our clients, and I enjoy helping find solutions to legally minimize those taxes.
Give me one piece of financial advice you would offer clients.
I would recommend you talk to your wealth advisor and CPA before engaging in any major financial transaction; different financial and tax strategies can then be discussed. If the discussion happens afterwards, possible solutions may be more limited.
Tell me an actual story about a client that you helped and how you changed their life in a positive way.
I recently consulted with a business owner who was the fourth generation in his family to run the company. The company had come across some hard times recently, and was even struggling to make payroll some months. I analyzed his company's financials and made suggestions on how to cut costs, which included closing down several unprofitable stores. I also advised him how he might find additional financing that could help with the seasonality of his business. The business is now doing better, and I look forward to hearing about its return to profitability.
00410012 07/21
---