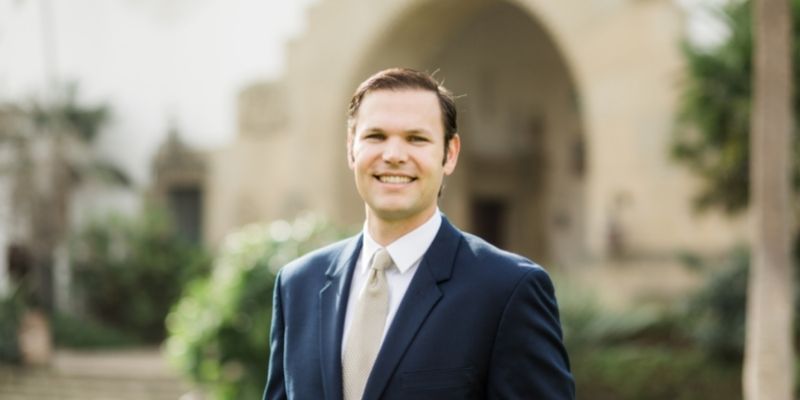 ---
Mission Wealth Partner and Director of Business Development, Andy Penso, is our Spotlight on the Team interview for November 2017. At Mission Wealth, Andy delivers customized financial planning, risk management and tax planning solutions to high net worth clients in order to help them achieve their personal and financial goals.
In this interview Andy, who has been with the firm since 2005, discusses his passion for cooking, the satisfaction he derives from working with our clients, and he provides a tip on how you can improve your finances.
What are a few childhood experiences you had that formed who you are today?
I grew up playing sports (water polo, basketball, baseball, golf, swimming) and I learned at a young age the benefits of delayed gratification and working towards a goal. As I've gotten older, I have learned to let the highly competitive side of me relax every once in a while, too.
How do you like to spend time outside of Mission Wealth?
I am a dedicated husband and father when I am not focusing on my work at Mission Wealth. My wife, Jaclyn, and I have been married for over seven years and feel incredibly fortunate to reside in Santa Barbara. Our daughter, Rose, keeps us on our toes and we are so proud to have her in our lives. We are also expecting a boy in January 2018, so our household is coming up for a big change.
Do you have any pets? Are you a dog or a cat person?
I have a golden retriever named Brewski. I grew up in a house that always had at least two dogs at all times, so I am definitely a dog person. Though I have nothing against cats.
What's something interesting that people don't know about you?
I love to cook. Since I was a kid, I have always enjoyed being in the kitchen trying new recipes or perfecting old favorites. In the summer, you will find me standing by a barbecue with something cooking.
If you could offer any advice to your younger self, what would it be?
Say yes more. Whether it be invitations to travel with friends, go on new adventures, or try a new restaurant. I can fall into being a creature of habit and routine, but when I do try something new and expand my horizons, I have rarely regretted it.
Jaclyn and I have been fortunate enough to do some amazing trips over the years like climbing Mount Kilimanjaro, doing an African safari, riding bicycles across Thailand, Cambodia and Vietnam, sight-seeing in Paris and Italy, among other destinations. Getting out and doing something new and different was something I never really did growing up.
What do you think makes you well-suited for your current role?
I am a problem solver and love to look at a challenge and find a solution. I also enjoy working in a one-on-one environment, rather than working in large groups. I am more of an introvert by nature, and the one-on-one conversation is a place I feel comfortable, so sitting with a client and talking with them is where I feel the most confident.
Is there something about your personality that guides your approach?
Attention to details.
What does a day of work look like to you?
That's probably the thing I love most about being at Mission Wealth. Every day is different, because every client is different. What is important to one family may not be high on the priority list for another. This is why it is so important for us as a firm to limit the number of relationships per advisor. I do not have to dig through notes to refresh my memory for a client conversation. I understand their unique financial plan and individual goals.
What are your favorite kinds of clients to work with and why?
I am incredibly fortunate to work with some of the nicest, most respectful people I could imagine. I feel that clients look to me for advice in regards to their most personal financial issues (gifting to children, estate planning, retirement, etc.) and in turn, I feel that I can open up about what is going on in my life and they can provide me with advice (buying a home, having my first and second child, work/life balance, etc.).
I've been with Mission about 13 years now, and have gone through my own life experiences (marriage, first child, first home purchase), and I think clients see that and are able to fondly remember their own experiences when I ask them for advice.
What do you think are the most important things people can do to improve their finances?
The biggest mistake I see is having a goal in mind, but the number may seem out of reach so a person does nothing rather than something. For example, if a client wants to save to a college account for their child and a projection shows it may take a monthly savings of $1,000 to reach their stated goal. But maybe that doesn't fit their budget so they just throw up their hands and say, "I hope they get a scholarship." Instead, why not start with $200 per month and then increase that number, if possible, in increments. It does not have to be all or nothing for paying down debt or when saving towards a goal. Start with something and you will be amazed how that helps.
988492 11/17
---