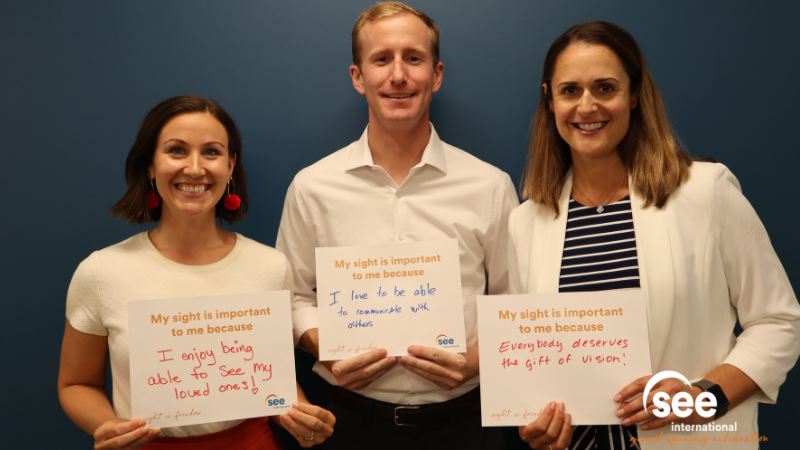 ---
On Saturday September 15, 2018, SEE International hosted a 'Seeing the Light' afternoon at The New Vic Theater. The event, a part of the Celebration of Sight week, featured engaging conversations with leading humanitarian eye surgeons, screenings of their award-winning short films, and more!
Dannell Stuart, Jenna Rogers, and Shane Holt from Mission Wealth were all able to attend the event and happily support the organization, helping more lives receive the gift of sight.
SEE International provides essential and transformative eye care and surgery around the world and in the United States. They bring medical volunteers and partners together to care for the people who need it most. Throughout their 44-year history, SEE International has accomplished a great deal in its fight against avoidable blindness. Since 1974, their volunteer ophthalmologists have restored sight to over half a million men, women, and children. They have examined more than four million people worldwide, and transformed the lives of countless others. Because of the generosity of their volunteers, donors, and supporters, parents can return to work and provide for their families. Children can go to school and seek brighter futures. Elder family members can live dignified, independent lives.
SEE International also celebrated the unveiling of their new logo and welcomed all to future of SEE International. Their new strategic identity symbolizes a new and hopeful dawn for their family of humanitarian volunteers. It is partially inspired by the experience of one of their patients in El Salvador, who wished to see the beauty of a sunrise again.
Mission Wealth is proud to contribute to a wonderful nonprofit organization. For more information about SEE International, please go to www.seeintl.org.
 
1067369 9/18
---