3 Reasons Why Private Equity Funds May Benefit Investors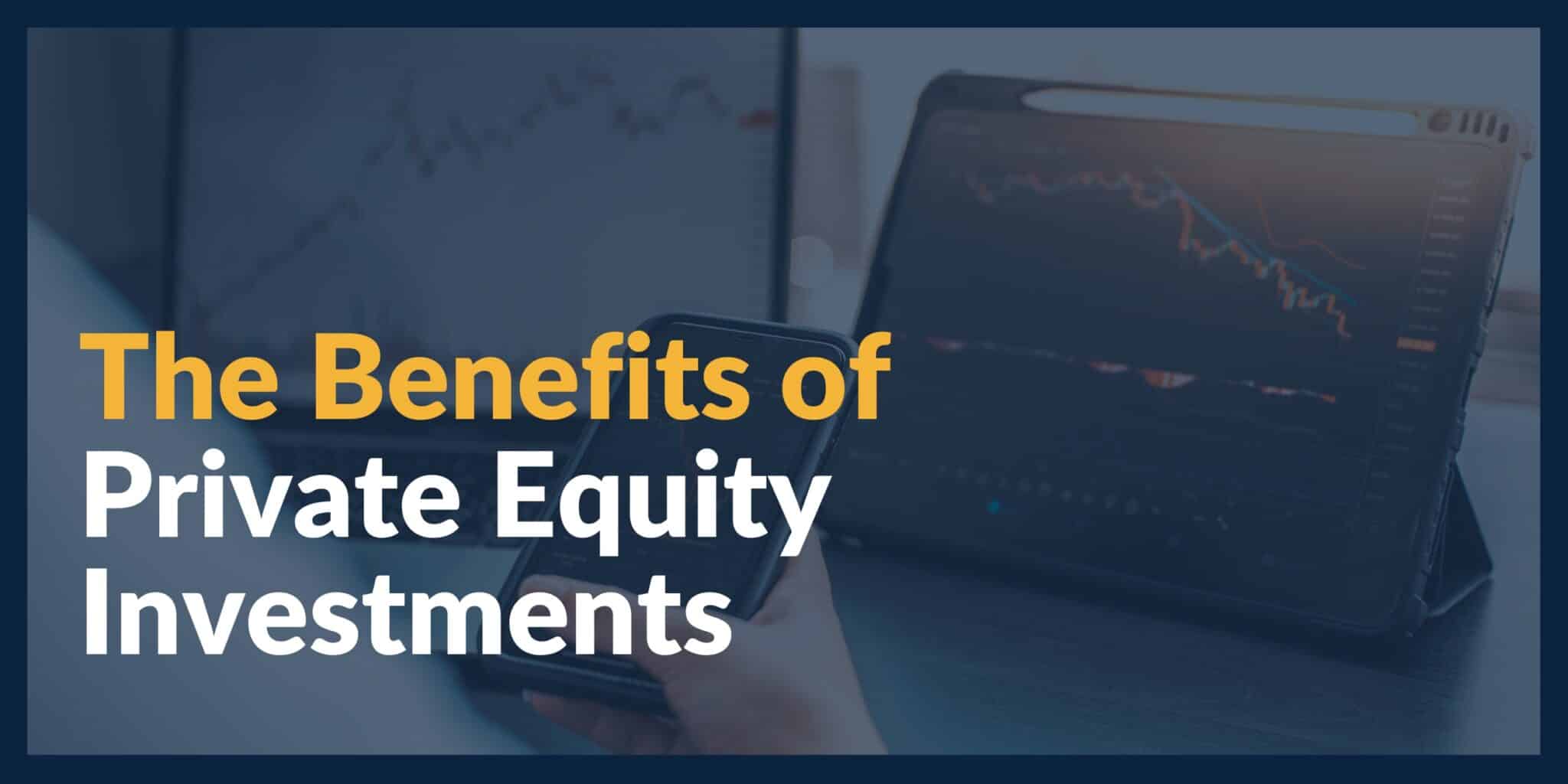 Private Equity: an asset class that may offer compelling risk-adjusted return potential to investors.
What is Private Equity? What are Private Equity Investments?
In short, private equity investments are an investment in a company that is not publicly traded or listed on an exchange. When you invest in a private company, you own a share of that business, just like when you buy a publicly traded stock. However, private company investments are less liquid, meaning they are not as easy to buy or sell as public stocks.
Private equity investments offer a wider range of opportunities compared to public markets and can provide investors with the potential to invest in high-growth companies or industries that are not yet publicly traded. In the United States, over 90% of companies are private. Despite this, most investors have 100% of their equity investments allocated to publicly traded stocks.
Why Are Private Equity Funds Popular?
Private equity has the potential to provide attractive risk-adjusted returns. Historically, private equity investments were limited to institutional investors such as endowments, pensions, family offices, and ultra-high net worth individuals. However, through our investment partnerships, Mission Wealth can provide our clients with access to institutional-caliber private equity investment funds with investor-friendly structures.
1. Private Equity's Enhanced Return Potential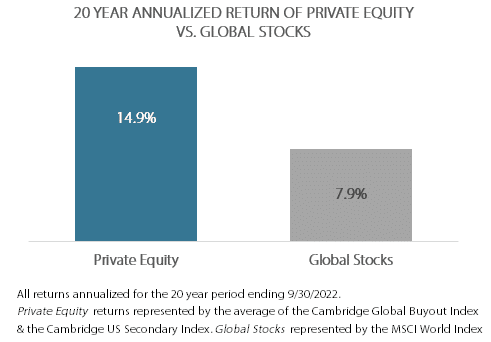 We believe we have entered a structural shift with respect to monetary policies. Whereas the years post-Global Financial Crisis (2008) were marked by low interest rates and quantitative easing, the years ahead are likely to be marked by tighter policies: higher interest rates and quantitative tightening.
Given this backdrop, we believe expectations should be reset for a moderation in public stock market returns more in line with historic averages of mid to high single-digit annualized returns.
In such an environment, private equity may offer compelling upside return potential relative to stocks. Historically, private equity has consistently produced higher returns than stocks.
2. Private Equity's Downside Protection
Private equity tends to perform relatively well during times of stock market duress. In these environments, private equity managers may take advantage of widening spreads to acquire high-quality assets cheaply.
Indeed, during the three most recent major stock market drawdowns, private equity experienced only 40%-60% of the downside of stocks but captured 100%-115% of the upside.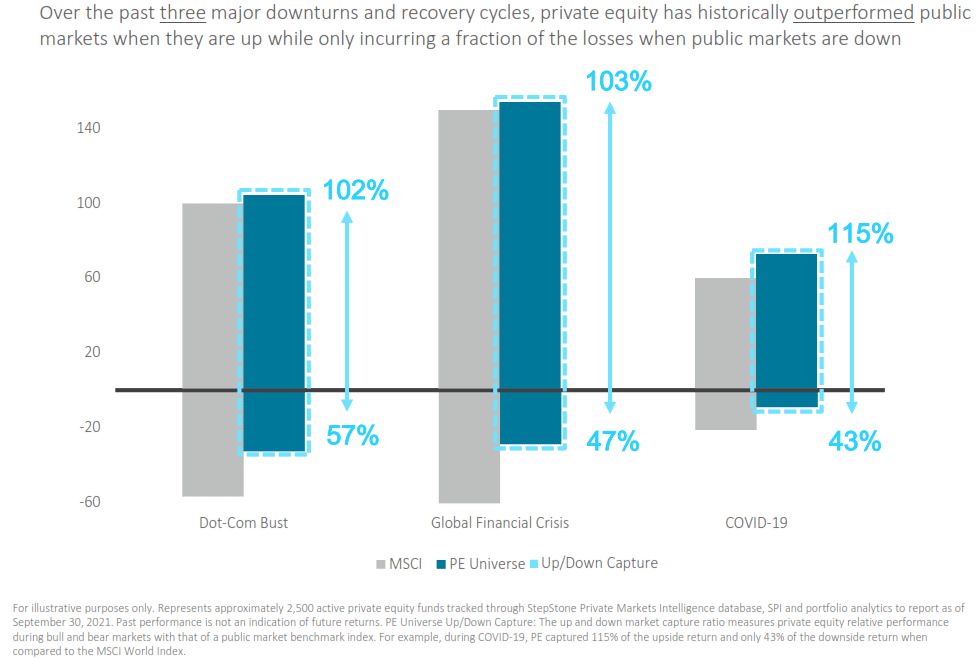 3. Investor-Friendly Structure 
Traditionally, an investment in a private equity fund required high minimum investment sizes of $5 million or more, a capital call structure where it often took four years to get fully invested in a fund, relatively concentrated portfolios, a long fund life of 10 years or more, K-1 tax reporting, and no yield in early years.
Mission Wealth's private equity solutions can solve these issues. Our clients can access broadly diversified institutional caliber funds with minimum investment sizes of $50,000, and no capital calls – meaning clients are fully invested and participating in the fund from day one. Additionally, clients can expect quarterly liquidity (subject to fund-level maximums), consistent yield, and 1099 tax reporting.
Considerations 
It's important to note that private equity investments are less liquid than public market investments, meaning that it may be more difficult to sell your investment if you need to access your capital quickly. As such, private equity should be considered long-term buy-and-hold investments, with an expected hold period of five years or more. Additionally, private equity investments require a higher minimum investment and may be subject to higher fees and expenses than traditional, daily liquid investments.
Past performance is not indicative, nor a guarantee, of future results, and an investment in private equity can lose money. As with any investment, it's important to carefully consider the risks and potential rewards before making a decision.
Financial Guidance For Your Life Journey
Talk with a financial planner about your next steps.
Guidance For Your Full Financial Journey
Through our comprehensive platform and expertise, Mission Wealth can guide you through all of life's events, including retirement, investment planning, family planning, and more. You will face many financial decisions. Let us guide you through your options and create a plan.
Mission Wealth's vision is to provide caring advice that empowers families to achieve their life dreams. Our founders were pioneers in the industry when they embraced the client-first principles of objective advice, comprehensive financial planning, coordination with other professional advisors, and proactive service. We are fiduciaries, and our holistic planning process provides clarity and confidence. For more information on Mission Wealth, please visit missionwealth.com.
To meet with a Mission Wealth financial advisor, contact us today at (805) 882-2360.
00517512 05/23