Integrated Wealth Management with Claudia Arnold-Sawaf on "Journey to June" Podcast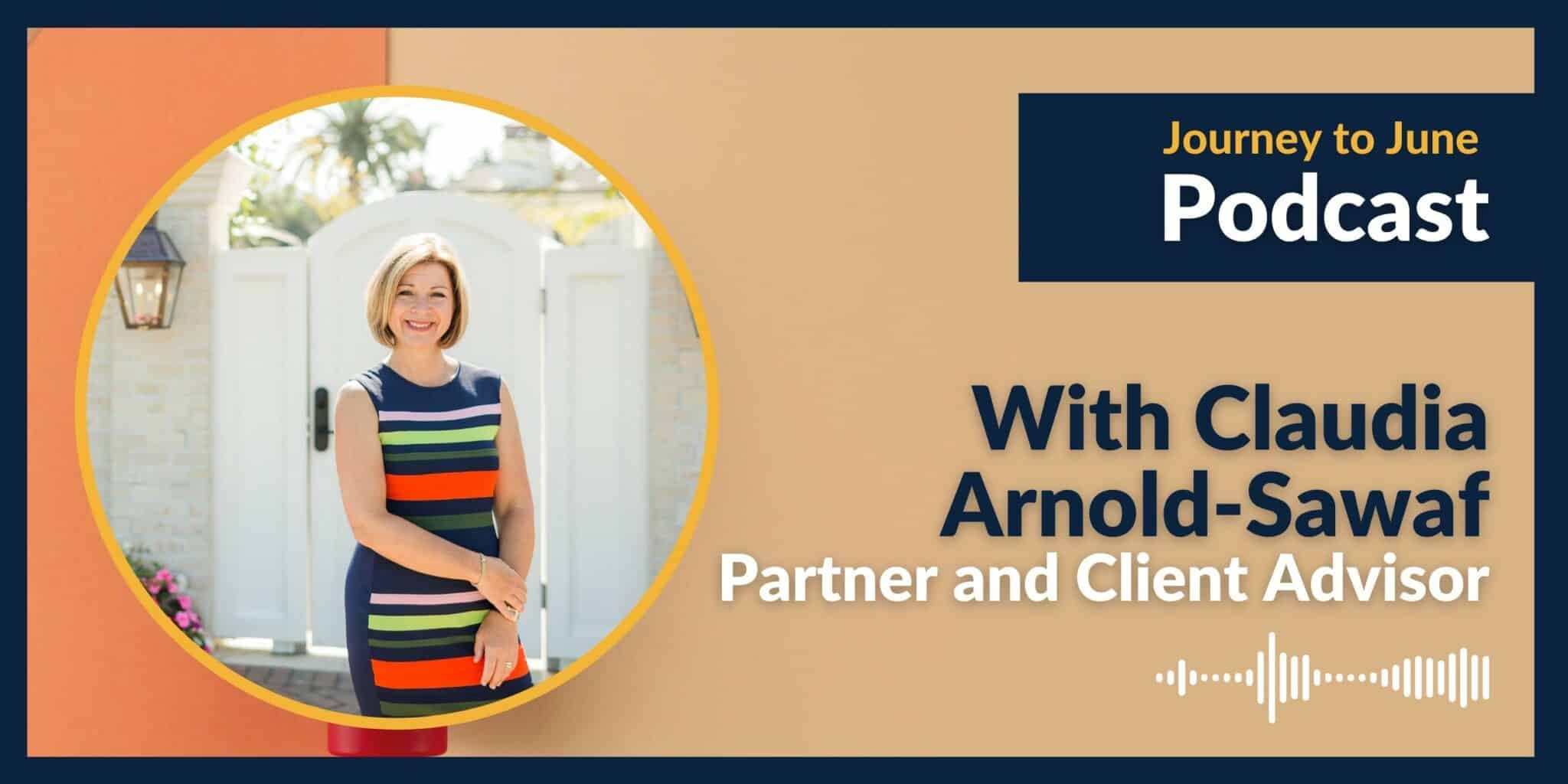 To mark the end of this year's Women's History Month, Claudia Arnold-Sawaf was recently featured on the "Journey To June" Podcast with Wendy Posillico. Below is a synopsis of the conversation and a link to hear the full story.
"In honor of the end of Women's History Month, I had to have my dear friend Claudia on the show. Claudia and her team members at Mission Wealth are the perfect examples of a woman shifting the way people approach the conversation about money. As Partner and Client Advisor, Claudia shares her journey around money as a child and how it shifted through the years to shape her into the advisor she is today." — Wendy Posillico
Listen to the Full Journey to June Podcast with Claudia Arnold-Sawaf
Why Should Women Invest in Financial Advice?
Women, like all individuals, can benefit from working with a financial advisor to help them manage their finances and plan for their future. However, there are a few specific reasons why women may particularly benefit from working with a financial advisor:
Women often face unique financial challenges: Women may have different financial priorities and challenges than men, such as earning less on average, taking career breaks to care for children or elderly parents, and living longer than men. A financial advisor can help women navigate these challenges and create a financial plan that addresses their unique needs.
Women may lack confidence in their financial knowledge: Studies have shown that women may have less confidence in their financial knowledge than men, even when they have similar levels of financial literacy. However, the industry and the standard of knowledge are changing! Case in point, this New York Times Bestseller, "The Confidence Code", was written as a great resource by Katty Kay and Claire Shipman. 
Women may benefit from a different approach to financial planning: Some studies have suggested that women may prefer a collaborative and holistic approach to financial planning, which takes into account their values and life goals. Through our comprehensive and Inspired Living™ lenses, Mission Wealth can help women create a personalized financial plan that aligns with their values and helps them achieve their goals.
Overall, working with a financial advisor can be beneficial for anyone, regardless of gender. However, given the unique challenges that women may face when it comes to finances, a financial advisor can be particularly helpful in assisting women to achieve their financial goals. Mission Wealth feels honored to be able to match female investors with female advisors if they request it. For more on Women on a Mission, please visit our website.
Claudia's Tips for Teaching Children About Money
With two daughters myself, I learned early on the value of teaching the next generation about the importance of money and the impact it has on your overall health. 
Start early: Teach your daughter about money from a young age. Introduce basic concepts such as saving, budgeting, spending, and donating wisely through everyday activities like grocery shopping or setting up a piggy bank. When my daughter was little, she thought our money came from the "money machine" or ATM! 

Encourage saving: Help your daughter understand the value of saving money by encouraging her to save a portion of any money she receives, such as allowance or birthday money. You can also incentivize saving by offering to match any money she puts into a savings account. This teaches the value of delayed gratification and the rewards of disciplined saving and investing.

Teach the importance of budgeting: Teach your daughter how to create a budget and stick to it. Encourage her to prioritize her spending and think about her needs and values vs. wants when making purchases. This will help her develop good spending habits and avoid unnecessary debt in the future. We are following this principle as a family by sticking to our dining out budget, reserving restaurants for special occasions, and this also increased our time (and skills) in the kitchen.

Include them in volunteering: The last but most important tip is to include your daughter in volunteer work in your community. Today's social media world is all about appearance and imagination. Giving them opportunities to commit and give back to people who are less fortunate is truly one of the best ways to teach the value of money. This experience will also help them develop empathy and compassion towards others, which is an essential trait for building positive relationships and making a difference in the world.
About the Journey to June Podcast
My dear friend Wendy Posillico is the host of the Journey to June podcast. Wendy and I became close during our 2-year mentorship program with Roger Love called Master Presenters. Roger has the unique gift of attracting heart-based individuals who want to find their voice. Wendy and I clicked immediately, and we have been in each other's inner circle since 2018.
Wendy is a former pro athlete, single mom, transitional mindset coach, and the founder of Live Your June. The Journey to June podcast is all about being intentional, disrupting your norm, instigating your soul, and creating a bold, unique imprint that leaves a mark on future generations. 
Wendy interviews people who chart the course, and who may seem ordinary but live extraordinary lives. She's now determined to spotlight Soulstigators – people who are bold, curious, courageous, and eager to live their true selves on your Journey to June.
About Claudia Arnold-Sawaf, AIF®, ABFP™
Claudia is a Partner at Mission Wealth and serves as a Client Advisor. In this process, she becomes intimately acquainted with the specific life goals and financial lives of clients and then delivers customized financial and investment strategies, asset protection, and tax planning solutions to assist in their goal achievement.
Born and raised in Vienna, Austria, Claudia moved to California in 2000. Originally in global hospitality, Claudia has over 20 years of experience in providing world-class service and personal care to help her clients achieve their visions and goals. As an Advisor at Mission Wealth, Claudia serves private wealth clients and private foundations. She owned and operated her own fiduciary planning practice until 2019 when she joined Mission Wealth to provide even greater resources and a broader team of experts to her esteemed clients.
Personally, she enjoys traveling. Specifically adventures with her two daughters, outdoor activities in nature, Yoga, and lots of reading, especially around Self Development. As she mentions above, philanthropy is a large passion of Claudia and she continues to be involved in not-for-profit community organizations and advocating for those less fortunate. 
Feel empowered with the confidence and resources you need to take control of your financial well-being.
Are you interested in working with a female advisor?
Advice for Women Investors at Mission Wealth
Mission Wealth was founded on a vision to empower families to pursue their financial dreams. That vision has grown into a mission to inspire people, optimize their finances, and achieve their life goals. With more women in a position to grow their wealth and take financial control of their own futures, in many cases for the first time, Mission Wealth has created Women on a Mission, a group of female wealth and financial advisors and strategists who share a passion to help other women achieve their financial goals.
Founded in 2000, Mission Wealth is a nationally recognized RIA that oversees more than $5.3 billion in client assets under management. Mission Wealth is known for its service model, driven by a world-class technology stack that offers financial planning, investment counsel, tax services, estate planning and philanthropic strategies, and asset protection solutions tailored to each client's needs.
If you are looking for more information about Mission Wealth's financial planning or wealth management services, please visit missionwealth.com.
00504566 03/23
Recent Articles for Women Investors