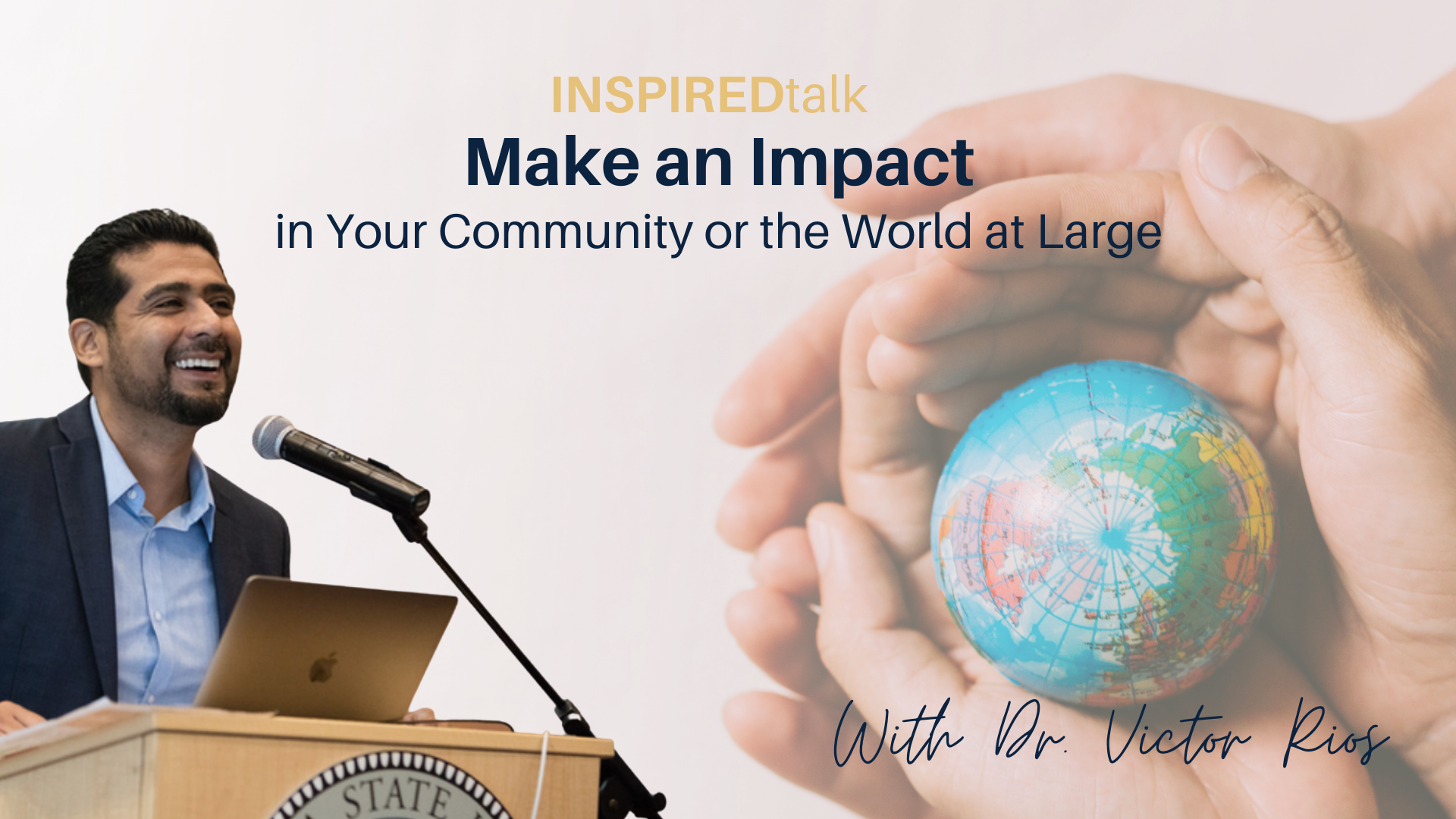 ---
On Thursday October 21, 2021, Mission Wealth hosted our fifth INSPIREDtalk where we heard from Dr. Victor Rios, who explained his experience of living on the streets, dropping out of school, and being incarcerated as a juvenile. In this video, learn how he took his research findings to develop interventions for marginalized students aimed at promoting personal transformation and civic engagement.
Rios grew up in a single-parent household in one of the poorest neighborhoods in Oakland, California where he was surrounded by drugs and gang life. He dropped out of school in the eighth grade and ended up in Juvenile Hall by the age of fifteen.
After being a victim of gun violence, he decided to resume his schooling with the help of one of his high school teachers, Flora Russ and various other mentors. He explains the journey he took, along with his research findings in order to develop interventions for marginalized students aimed at promoting personal transformation and civic engagement.
1. Explore your local community and non-profits to find opportunities to make an impact or research online for additional virtual opportunities outside of your community.
Often times there are many life-changing and important non-profit organizations in your community you may not be aware of. Begin by reaching out to these non-profits to learn more about their mission and how you can help them make an impact.
When you think about volunteering, the typical image of a team or community group planting a garden, revitalizing a local park or painting a lively mural at a school comes to mind. Yet all around the globe, at any given time, thousands (if not millions) of engaged citizens volunteer virtually — using their computers, the internet, even their smart phones.
2.

Utilize your unique experiences, background, or skillset. You don't need prior experience volunteering or helping kids.
Understanding your skill set, your professional and personal experience, and also your limitations are key to deciding the type of volunteer opportunity you want to get involved in.
Ask yourself what role you want to have in this volunteer opportunity? What professional skillset do you have to offer? What past experiences do you want to recreate? Which activities give you purpose and passion?
For example, Dr. Rios' life was changed through his mentor. Dr. Rios' not only now focuses his career on mentoring at-risk youth, but leading various programs, guided education and books to guide those in the corporate mentoring process.
3.

You may not recognize your impact right away, it could be something that hits later down the road for someone.
Many individuals in Dr. Rios' life growing up tried to reach him and other troubled youth. It wasn't until later in life that he realized some of those ideals and lessons that he previously disregarded from mentors, were useful and had impact on his professional career.
4.

It's not just youth that need our help - often times, we need to help the parental system and adults first, so their kids can best develop in a healthy family environment.
Involving parents in mentoring services is one of the best things a program can do to ensure its success. Programs whose parents, guardians, and other caregivers work in concert with mentors and program staff are more likely to see positive changes in youth and improved program outcomes.
There is a long history of research into the impact that parental involvement has on academic achievement, child and adolescent development, and the socialization of young people. It makes it clear that nobody has the ability to influence children's development more than parents, or a caregiver.
Talk to your mentoring organization about parental involvement or reach out to your local family non-profit organization and volunteer with evidence-based parental programs.
5. Mentor in your community.
Children and adolescents go through important periods of development. Youth are vulnerable to taking the wrong step, which is why mentors are important for them. Mentors may not be able to change how fast a child's brain develops or force a child to make certain decisions, but mentors can share their worldviews, experiences, knowledge, support and advice, as well as provide a positive influence. By introducing youth to new experiences and sharing positive values, mentors can help young people avoid negative behaviors and achieve success. 
59% of mentored teenagers earn better grades.
27% of mentored youth are less likely to begin using alcohol.
52% of mentored youth are less likely to skip school.
Youth with mentors have increased likelihood of going to college, better attitudes toward school, increased social and emotional development, and improved self-esteem.
About the Speaker | Dr. Victor Rios
Dr. Victor Rios is MacArthur Foundation Chair in Sociology at the University of California, Santa Barbara. He received his Ph.D. at the University of California Berkeley in 2005.  Dr. Rios has worked with local school districts to develop programs for students who have been left behind in their education.  Using his personal experience of living on the streets, dropping out of school, and being incarcerated as a juvenile—along with his research findings—he has developed interventions for marginalized students aimed at promoting personal transformation and civic engagement. These programs have been implemented in many schools across the United States; juvenile detention facilities; and alternative high schools.
He is also the author of six books including, My Teacher Believes in Me: The Educator's Guide to At-Promise Students (2019); Street Life: Poverty, Gangs, and a Ph.D. (2011); Buscando Vida, Encontrando Éxito: La Fuerza de La Cultura Latina en la Educación (2016); and Human Targets: Schools, Police, and the Criminalization of Latino Youth (2017).
Dr. Rios has been featured in the Chronicle of Higher Education, Ted Talks, the Oprah Winfrey Network, Primer Impacto, and National Public Radio.  He has had the honor of meeting President Obama and advising his administration on gun violence and policing.  His Ted Talk "Help for kids the education system ignores" has garnered over 1.5 Million views.  He is the subject of the documentary film The Pushouts which is currently airing on PBS. (Watch the full film here.)
Sign up for Our Next Inspired Living Event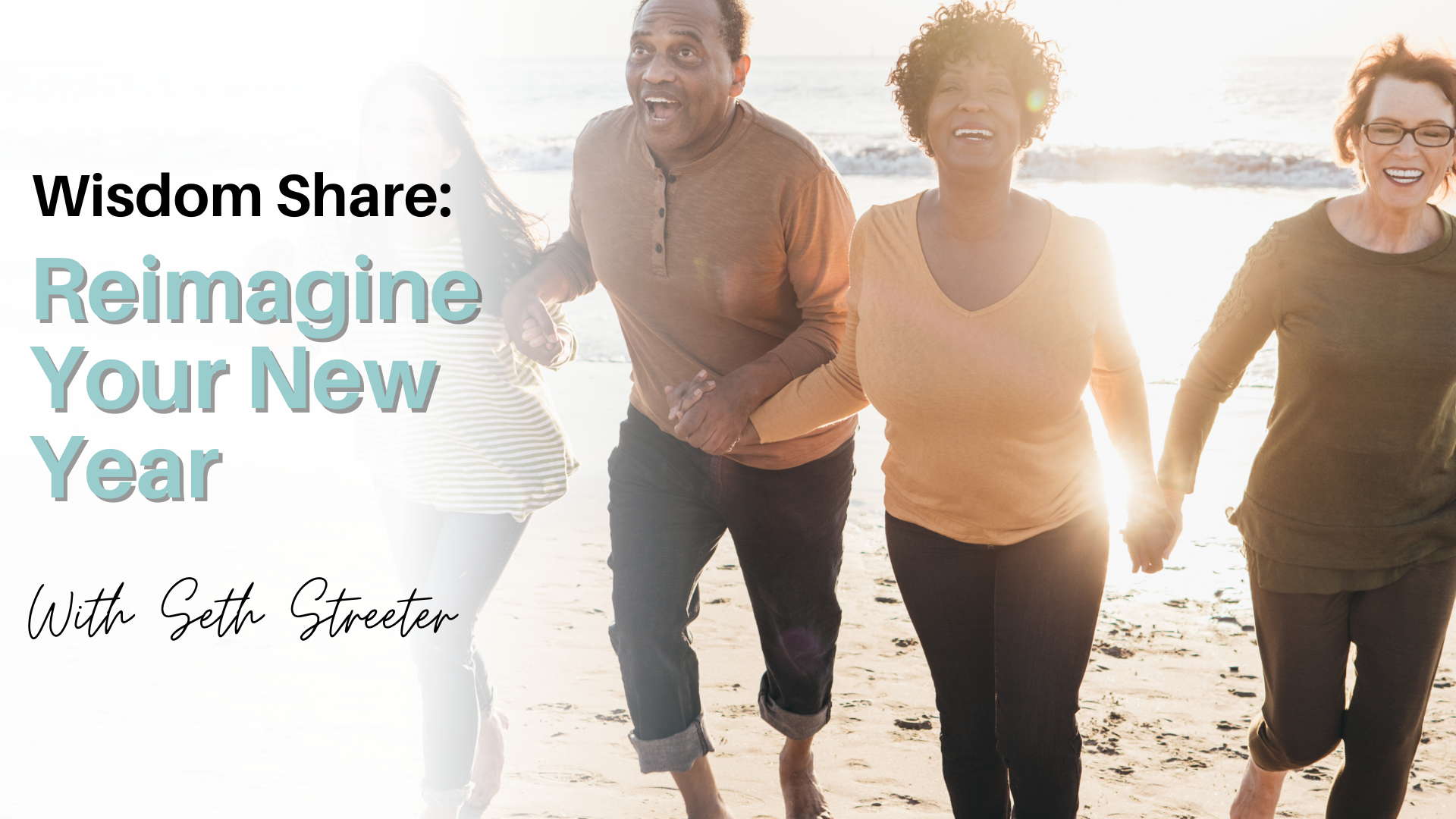 Join Seth Streeter on January 27, 2021 at 10:30am PT and connect with other wisdom-seekers for a session of self-discovery for the new year! Cultivate new areas of expansion by enjoying an atmosphere of collaborative learning. Gain meaningful, actionable insights and advice that works to bring you closer to your new year goals - new year, new you!
When you register you will receive a confirmation email with the meeting details - keep this somewhere safe so you can easily join the meeting on the day.
MISSION WEALTH IS A REGISTERED INVESTMENT ADVISER. THIS DOCUMENT IS SOLELY FOR INFORMATIONAL PURPOSES, NO INVESTMENTS ARE RECOMMENDED. ADVISORY SERVICES ARE ONLY OFFERED TO CLIENTS OR PROSPECTIVE CLIENTS WHERE MISSION WEALTH AND ITS REPRESENTATIVES ARE PROPERLY LICENSED OR EXEMPT FROM LICENSURE. NO ADVICE MAY BE RENDERED BY MISSION WEALTH UNLESS A CLIENT SERVICE AGREEMENT IS IN PLACE.
00422629 10/21