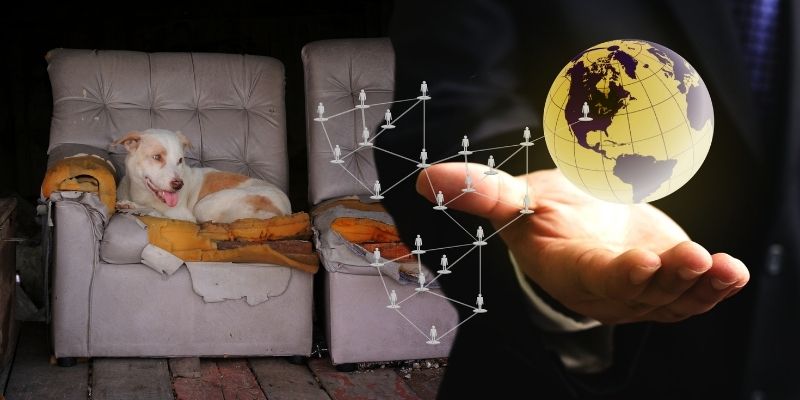 If Covid-19 and social justice movements have inspired your charitable side, you might consider approaching philanthropy the same way you would approach a career move. Here are some ways that you can connect with others to boost your lasting impact.
---
With so many people living and working online these days, there are more opportunities than ever to branch out from your social, personal, and professional contacts to identify areas of need in your community.
We've put together five ways that you can expand your charitable efforts and connect with people and organizations that will help you make a real difference.
1. Try attending some virtual events. You may be pleasantly surprised about the experience.
If you're not a runner, the food bank's annual 5K might not have appealed to you, despite the good cause. Due to the pandemic, many charitable organizations have moved their large in-person events online. This gives you an opportunity to give back, learn more, and connect with other donors, all without leaving your home (or breaking a sweat). Educational webinars are another great resource to educate yourself about problems and learn from experts who are working on meaningful solutions.
2. Reach out to some smaller businesses.
We advise our clients that it's usually best to donate to large, established charities. Organizations like the Red Cross have infrastructures that reliably translate your dollars into aid.
However, many small business owners have banded together to support each other and their communities during Covid-19. Your favorite coffee shop or live music venue might be involved in a fundraising effort for furloughed employees that you could help through donations or by raising awareness online. The more structured and transparent these efforts are, the more confident you can feel that your generosity will reach its intended target.
3. Start a relationship with any local charities and/or nonprofits.
Money is usually the best way to give because it doesn't need to be boxed, shipped, or distributed to help. But this year's unique challenges have affected communities in so many different ways. Local charitable organizations and nonprofits could have specialized needs that larger organizations don't. You could organize a school supply drive for your community center's after-school programs or ask your local shelter if there are any food items that they're running low on. Many organizations are also in the process of moving their operations online, creating new virtual volunteering opportunities that could put some of your professional skills to good use.
4. Openly discuss your charitable opportunities with your family.
Involving your spouse, children, and grandchildren in your philanthropy can set a powerful example. It can also make giving a family value that the next generation will be inspired to carry on. Talk to your family about the causes that are important to them and design a charitable budget that makes everyone feel included. Sharing that passion could help you see the world in a new way and connect with people and causes you might have otherwise overlooked.
5. Remember, you can always reach out to a professional.
Wanting to give back can feel very personal, especially if a cause is near and dear to your heart. But you don't need to go solo when it comes to philanthropy. In response to the pandemic and social justice movements, charities, foundations, and nonprofits across the country have thrown open their doors. Organizations are sharing resources, expertise, and manpower like never before. Whether you're looking for a new volunteer opportunity or thinking about establishing a charitable trust, there are pros who can guide you towards the best use of your time, your talents, and your assets.
Are you living your life in a way that brings you joy and meaning?
Join the Inspired Living™ movement to elevate your past, present and future. Let us introduce you to prominent thought-leaders, life coaches, and influencers who can work together with you to develop your customized life plan. We will give you curated resources, actionable advice and targeted strategies during your journey of self-discovery. Then we will align your multi-dimensional and multi-faceted life with your ultimate vision so that you can become the BestU™ in your life journey. Learn More
00378028 09/20
---