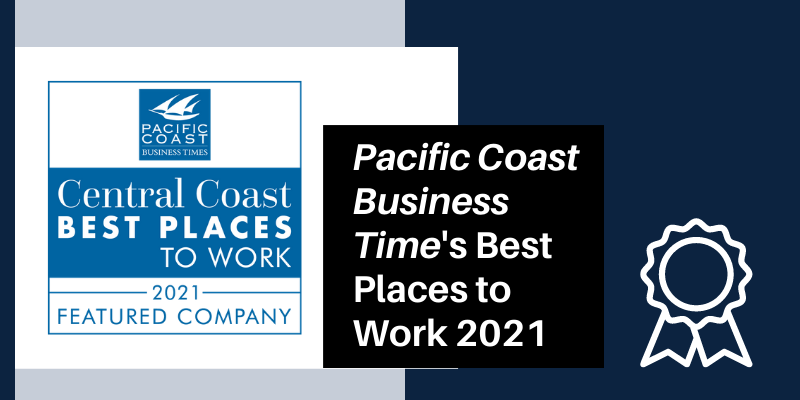 ---
---
Today Mission Wealth was named one of the top fifty Central Coast Best Places to Work for 2021. This award is annually produced by The Pacific Coast Business Times, the weekly business journal for Ventura, Santa Barbara and San Luis Obispo Counties.
Since being integrated into the Business Times' special reports lineup five years ago, Central Coast Best Places to Work has quickly turned into one of the most popular publications on their editorial calendar. They have put together an approachable survey to collect nominations and determine the region's best employers. Only individuals employed by the organization and based in the region may submit, and employees are limited to one survey submission. Multiple survey submissions for a single employer was recommend for recognition, but again, only one survey submission per tri-county-based employee.
At Mission Wealth, we believe our culture comes before everything else. We know that investing in our people is also an investment in our clients, and an investment in our clients is also an investment in our community. We cherish our team members and strive to create an environment where everyone can flourish.
At Mission Wealth, caring is one of our leading core values. Thus, diversity, equity, and inclusion are foundational pillars to who we are and what we stand for. We celebrate varied perspectives and backgrounds, knowing this is a strength that sparks creativity and innovation to thrive in an increasingly diverse world.
Our firm promotes an equal opportunity environment, with widespread representation of various races, gender identities, religions, sexual orientations and other diverse communities.
Our Mission is to help people live their best life.™ Mission Wealth is committed to continually strengthening our company culture through diversity and inclusion programs in both our work environment and the extended communities we serve.


Increasing diversity throughout our company by hiring nationwide and supporting a fully distributed workforce.
Creating equity with clear career growth plans, leadership and partner opportunities, and comprehensive training programs including our Accelerated Advisor, Mentorship, and Sustainable Future Campaign on Diversity.
Ensuring inclusivity through employee affinity groups (Women on a Mission and Men on a Mission), Diversity Committee, training, retreats, UCSB Arts and Lectures on Diversity, and INSPIREDtalks with diverse speakers and topics.
Additionally, Mission Wealth partners with numerous nonprofits, including national programs through the Foundation for Financial Planning, to champion volunteer efforts and philanthropic support to amplify our diversity and inclusion impact.
"When I look around the firm, I am proud to be associated with each and every person." said founder Brad Stark. "Trust, caring, mutual respect, high moral character, smarts are not even a question but just a given. Each person knows without a doubt that everyone is working together as a team for a collective good. It's a wonderful and special environment. But it only happens because of who the people are in their hearts and minds. We are fortunate to have attracted more than our fair share."
Mission Wealth partners with numerous nonprofits to champion volunteer efforts and philanthropic support to amplify our diversity and inclusion impact. We have continued to considerably increase our community support dollars towards nonprofit sponsorships and partnerships in the region. We have been proud to support nearly 100 local, national, and international nonprofit organizations. Not only do we choose to support the organizations that our clients are intimately involved with, we also support each team member's community involvement. Each employee is encouraged by the firm to get involved or give back in their own way. Many of them sit on boards, volunteer, or participate in committees.
One of our missions as a company is to help alleviate our clients' concerns about money so that they can use their gifts, resources and connections to create greater impact in the world. Mission Wealth is focused on educating clients about how to increase their philanthropic impact and make giving more meaningful in their own lives. Through life planning, we help clients identify and realize their dreams. We make an impact by empowering people to make educated and informed decisions and deliver peace of mind and security so clients can focus on what is important in life.
To learn more about our team, click here.
About Mission Wealth
Mission Wealth is a nationally recognized RIA founded in 2000 that oversees over $4 Billion in client assets under management. Mission Wealth is known for its service model, driven by a world-class technology stack that offers financial planning, investment counsel, tax strategies, estate planning coordination, philanthropic advice, and risk management solutions tailored to each client's needs.
Mission Wealth's vision is to provide caring advice that empowers families to achieve their life dreams. Our founders were pioneers in the industry when they embraced the client-first principles of objective advice, comprehensive financial planning, coordination with other professional advisers, and proactive service. Mission Wealth is a fiduciary, and our holistic planning process provides clarity and confidence. For more information on Mission Wealth, please visit missionwealth.com.
Mission Wealth is a Registered Investment Adviser. This document is solely for informational purposes, no investments are recommended. Advisory services are only offered to clients or prospective clients where Mission Wealth and its representatives are properly licensed or exempt from licensure. No advice may be rendered by Mission Wealth unless a client service agreement is in place.
00404889 5/21