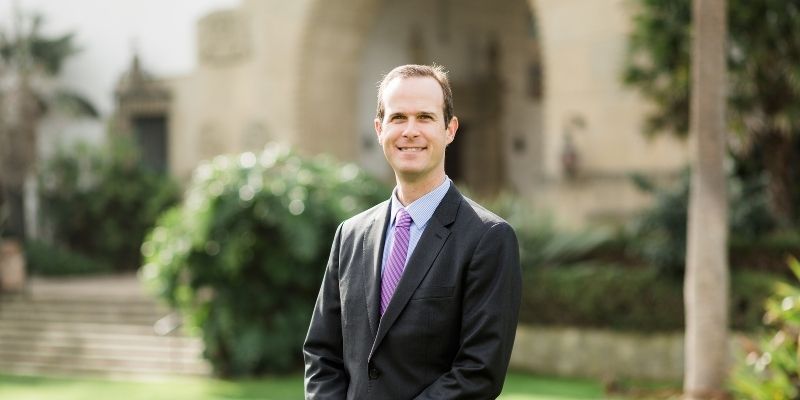 ---
The Spotlight on the Team interview for August 2017 is with our CEO and Managing Partner, Matthew Adams. Matthew is responsible for strategic growth initiatives, operational improvements, business and technology efficiencies, and ongoing personnel development. He leads the firm's Executive Committee and continues to be an active contributor on the Investment Committee. Matthew also provides service to a select group of high net worth individuals, non-profit organizations, endowments, and institutional clients.
What are a few childhood experiences you had that formed who you are today?
As a child, I grew up independently and quite self-reliant. Finding answers on my own, blazing my own trail, and envisioning my future have always been a strong suit of mine. Even now, I am most energized when thinking about the future and how the advisor community will evolve over the years and decades to come. As President of the organization, I feel I am in a uniquely suited role to shape Mission Wealth's future, and I take that responsibility very seriously.
How do you like to spend time outside of Mission Wealth?
While at work I am so fortunate to rely upon my wife Jenny to be the rock of our family, and I am grateful for the amazing job she does raising our kids! On the weekends and holidays, I love spending time with my family and being actively involved in our kid's sports, activities, accomplishments, and hobbies. It's so rewarding to see our kids have so much success and happiness!
Are you a raving fan of anything – like a sports team or band or school?
I am a raving Warriors basketball fan, and not just in recent years! I have been a fan for over 30 years and, if anything, the Warriors have taught me that patience is eventually rewarded.
What's something interesting that people don't know about you?
I am fascinated by physics and astronomy as far back as I can remember as a child. I am able to satisfy some of that fascination via my past and future Board positions with the Santa Barbara Museum of Natural History. When we do have a free weekend as a family we enjoy visiting museums and I am also a late night NOVA junkie.
At Mission Wealth we talk to people all the time about what their goals and aspirations are. So what's on your bucket list?
Looking back on my younger self, I feel (as many people do) some tinge of regret in not taking greater opportunity to travel the world. I have had my fair share of travel experiences, but my bucket list does include some adventure travel that only gets more difficult with age! Adventure travel for me tends to align with my personal sports hobbies. Heli-skiing in Alaska, sailing from California to Hawaii, golfing around the world, and summiting some of the world's major peaks are all on that eventual bucket list!
Are you a part of any organizations?
I am an active member of the Santa Barbara Museum of Natural History. I have been Chair of the Finance Committee, Chair of the Investment Committee, and a Board member for many years. After terming off the Board last year, I am looking forward to another term on the Board this Fall and in helping the Museum shape its ongoing mission. I am passionate about the Museum's purpose, its science enrichment programs, and the countless educational opportunities afforded to elementary school children each year. My family enjoys spending time at the Museum and I am personally fulfilled working with such a wonderful group of volunteers, employees, and fellow Board members.
What do you think makes you well-suited for your current role?
Thinking back to my first days at Mission Wealth, I knew immediately this was a place I could make a difference. Not just in terms of building a business, but first and foremost a place where we can truly have a platform to improve our clients' lives. As President, I am harnessing that passion to make a difference in all aspects of our business from advice, investments, technology, personnel development, growth initiatives, and identifying new lines of service to offer our clients.
What does a day of work look like to you?
On a typical day, I get up early and I get organized prior to the financial markets opening. I trade less now than in previous years, but I am still fascinated by the financial markets, the macro-economic data pouring at us from all directions, and the larger forces at work that shape our economy. Mornings are always busiest for me, and I try to pack as many meetings in as possible prior to lunch. Lunch is one of my favorite times of the day for obvious reasons, but I do so enjoy spending that lunch hour with colleagues and getting to know them personally. In the afternoons, I spend time preparing for the next day's meetings, having internal conversations with the team, and prioritizing projects around the office. Late afternoons and early evenings tend to be quiet around the office and when I have the most time to think about the future initiatives of the firm.
What major projects and initiatives are going to be the company's focus in the coming years?
The world is changing rapidly and I am excited to continue to evolve Mission Wealth into the "future ready" firm we know we need to be. I see that adopting new technologies and pushing the boundaries of that adoption as one of my primary functions as President. The trick in adopting any technology is that it must enhance the client/advisor relationship, make the sharing of information easier, and allow our advisors more time with clients for deeper conversations about goals, family legacy issues, investment counsel, planning, and advice delivery.
What do you think are the most important things people can do to improve their finances?
What I have learned in the past 14 years at Mission Wealth is that a family's relationship to their finances is complex, unique, and often very difficult for them to articulate. Building a relationship with a trusted advisor is critical for people to improve their finances. Complex family dynamics, past experiences with money, and spouses that view money differently are all challenges but also great opportunities for Mission Wealth to add value. Whether we are working with retirees, an independent woman, a business owner, or a busy professional, we tend to see some of the same patterns repeat. We are so fortunate in that we don't go through these "life events" just once as is the experience for most of our clients. Rather, we have retired hundreds of times on behalf of our clients, endured the loss of a loved one countless times, and seen how important it is to leave a clear and thoughtful family legacy. Life is a journey and I feel so fortunate to be part of a team of advisors that fill the role of trusted guide for so many families!
What is a subject or area of finance that not many people know a lot about, but understanding it could really help their financial picture?
I tend to find that philanthropy is an area of finance that most people don't know a lot about. It's a fascinating subject to me as there are simply so many stakeholders in any philanthropic decision. The individual considering the gift, the non-profit that relies on the grant to complete their mission, future generations that forego a portion of an eventual inheritance, and of course the federal government and the estate tax code considerations. I have been fortunate to have been surrounded by so many amazing colleagues - each offering a unique perspective and experience with this subject. The opportunities to learn in this dimension of finance are nearly limitless!
968282 8/17
---