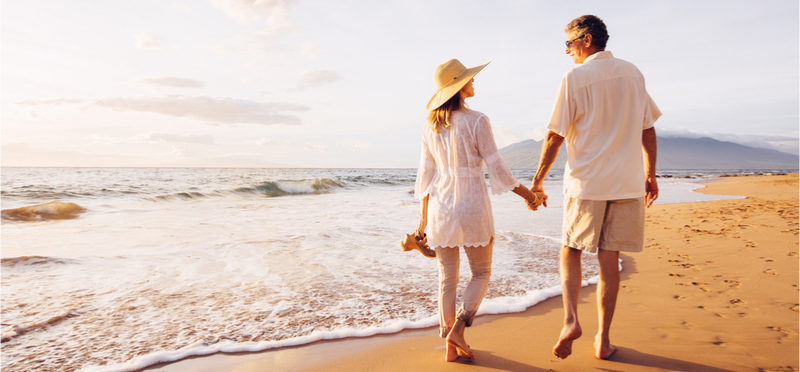 ---
By Long Tran
Client Advisor
Summer is typically the busiest travel season of the year for families, and for good reason. The kids are out of school, the days are long and the weather is generally at its most pleasant. Even as summer winds down and school is just around the corner, there could still be time to squeeze in one last trip.
Americans are notorious for not using their vacation days, however, a summer vacation is vital for recharging your batteries and has been scientifically proven to improve productivity and overall health. A family vacation will also give your kids exciting stories to share with their friends when they return to school along with lifelong memories.  You can't really go wrong choosing between a beach vacation, a trip to the mountains, or a visit to any of our beautiful national parks.
Check out some of my tips below for planning and budgeting based on a recent trip I took to Maui this summer.
 
Booking Your Travel and Lodging
First, figure out an approximate budget for the trip so that you can come up with a realistic list of options for destinations, lodging and activities. The summer season is usually the busiest travel season, which means it is also usually the most expensive time of the year to travel when it comes to airfare and lodging.
(An important side note: Retirees – or travelers who don't plan on traveling with children – might consider waiting until after the Labor Day weekend when prices on flights and accommodations generally drop considerably.)
For most families, squeezing in a last-minute summer trip with the kids is more important, and if you can be somewhat flexible on your dates, prices on flights to the same destination can vary dramatically depending on the week or day that you fly on. Typically, booking your airfare and lodging at least six weeks ahead of your trip would give you a better chance at scoring a good deal, but a quick Google search on "last minute airfare" may help you locate good deals as airlines try to fill up the remaining seats on their planes. Here are some sites to check:
Free e-newsletters such as Travelzoo also send out weekly updates on last-minute deals.
The proliferation of booking engines and travel-aggregator websites such as Google.com/flights, Kayak.com, CheapOAir.com, Expedia, and Hotwire allow you to quickly search for and compile a list of results when searching for airfare, lodging, or car rentals.
Applications such as "Hotels Tonight" also allow hotels to list last minute deals on empty hotel rooms within one week of the current date.
Sites such as vrbo.com, homeaway.com and Airbnb allow homeowners to rent out private residences for short term stays and may be more cost-effective than the typical hotel. On my recent trip to Maui, I booked an Airbnb instead of a hotel. It came with free parking, a washer and dryer and a full kitchen, allowing us to prepare meals in the comfort of our condo as opposed to dining out each day.
Airfarewatchdog.com has a great low fare alert feature which has you enter in your destination and time-frame for your trip and they will send you an email each time the price of a flight drops.
Tablethotels.com has a phenomenal listing of high end, well-designed hotels but each day they discount around 25 hotels anywhere from 20%-50% off in the "deals" section on their website.
Get on the email list for Budgettravel.com. Every week they send out a list of the best hotel, cruise and flight discounts being offered.
Jetsetter.com focuses on luxury hotels and offers "flash sales" each day with discounts of up to 50% off. Even if a place you want to visit isn't offered in the flash sale, they will show you with the website offering the lowest price for that hotel or destination.
Almost all of these sites have free downloadable apps that you can save to your smartphone or tablet, which are easy to navigate on-the-go. Lastly, if you are planning last minute, it may be worth it to call the resort or hotel directly to see if they have any recent cancellations. The front desk staff of the resort or hotel may be able to negotiate some good last-minute prices to re-book those recently canceled rooms.
 
Planning How to Get Around

While having a car was a prerequisite for exploring the island on my trip to Maui, do some research beforehand to see if a rental car is truly a necessity on your trip. Many cities have great public transportation networks that allow you to go from the airport to your hotel and nearby tourist destinations without ever having to use a rental car. Resorts will also often offer direct airport transfers where you can be whisked straight from the airport to your resort. Additionally, if you know you will mainly be staying put in one area, it may be more cost effective to use ride-sharing services such as Uber or Lyft or a taxicab to get around, as opposed to renting a car and paying for overnight parking, which can quickly get very expensive depending on the city or area you are visiting.
Most importantly, remember to relax and have fun with your family enjoying the rest of summer. It can be easy to get stressed out and get bogged down planning out the logistics, pricing and itinerary for a last-minute summer trip. The main point of the vacation is to give you a break from your hectic everyday life and a chance to unplug and unwind. Instead of worrying too much about the details and pricing, try to strike a happy balance between cost-conscious planning and relaxation. Remember, the point of vacation is to enjoy yourself!
971519 8/17
---