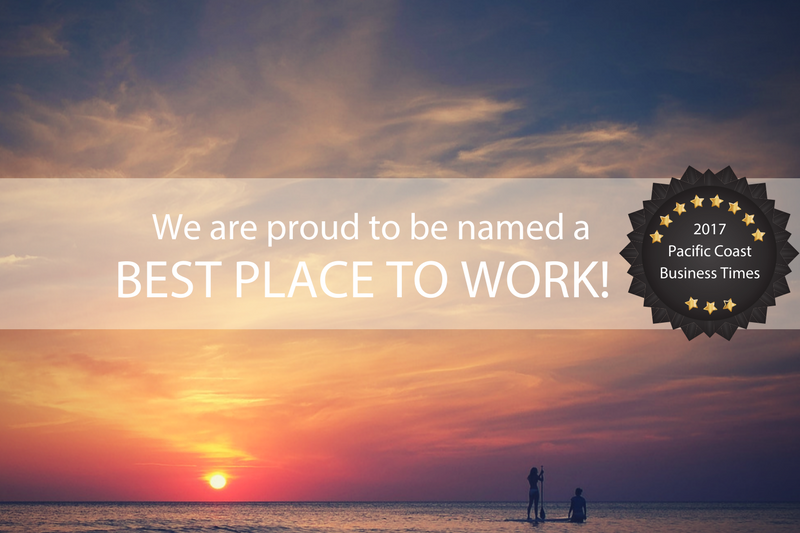 ---
Today the Pacific Coast Business Times named Mission Wealth one of the "Central Coast's Best Places To Work". This is a new award that has been developed by Pacific Coast Business Times, the weekly business journal for Ventura, Santa Barbara and San Luis Obispo Counties. In the upcoming publication you will find a list of the top ranked organizations in the 101 One Hundred/Hall of Fame special report. There will be an event to recognize the very best places to work on the Central Coast at the 101 One Hundred/Hall of Fame reception on Thursday, May 18 at the Four Seasons Santa Barbara Biltmore.
At Mission Wealth, our culture comes before everything else. That's because we know that investing in our people is also an investment in our clients, and an investment in our clients is also an investment in our community. One of our missions as a company is to help alleviate our clients' concerns about money so that they can use their gifts, resources and connections to create greater impact in the world. Mission Wealth is focused on educating clients about how to increase their philanthropic impact and make giving more meaningful in their own lives. We cherish our team members and strive to create an environment where everyone can flourish.
Our goal is to be a giving catalyst within the communities we serve. Each Mission Wealth employee is encouraged to be personally involved with at least one nonprofit that is aligned with his or her passions. We want everyone to reach their full professional potential so that as a company we can make the greatest possible impact in the communities we serve. As a company, we work directly with nonprofits, offering discounted endowment management services. Also, many of our team members serve on advisory boards and/or investment committees for local nonprofits. Oh, and we like to have fun, too!
To learn more about our team, click here.
---