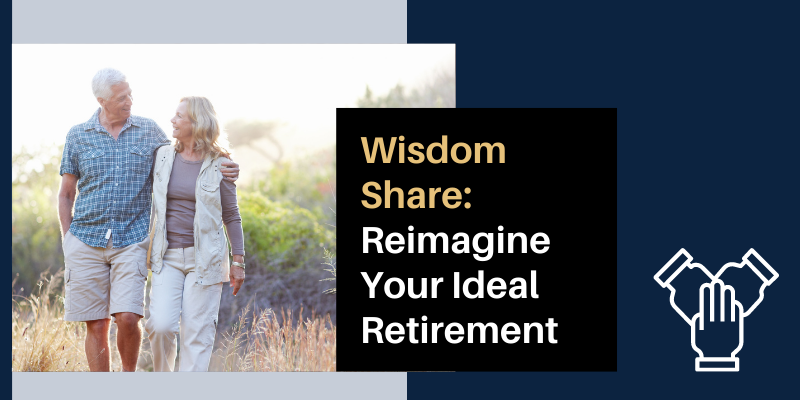 Recently, Mission Wealth hosted it's third virtual
Wisdom Share
this year for private clients, family and friends as a part of our Inspired Living™ program. During the session our client advisors collaborated with small groups to crowd-source some of the most effective strategies, tools and tips for gaining enhanced fulfillment throughout retirement, and boosting abundance in each of the 11 Dimensions of Life™.  Read our top takeaways below.
How can you experience more daily joy in retirement?
Plan events, travel, parties, etc.
Play a sport or something you enjoy, like tennis or pickleball.
Challenge yourself to a new hobby - follow the breadcrumbs of curiosity.
Find fun in your daily life - savor the micro-moments of life!
Read a book you enjoy.
Play a game with your grandchildren.
Hold a weekly game night with friends or family.
Play a game of fetch with your pet.
Try new foods or restaurants.
Environmental Dimension of Life™
Do you feel a sense of place and alignment where you live after retirement?
Visit a national park.
Try an extended visit to a new location.
Love your environment, whether it makes you closer to grandchildren or gives you a shorter commute.
Provide natural sunlight in your workplace and home, when possible.
Simplify and declutter for a greater sense of ease at home.
Make your home or office a nice play to be, with candles, pictures of loved ones and vacations, or plants.
Change your location after retirement or becoming empty nesters.
Intellectual Dimension of Life™
How do you continue to feel intellectually stimulated and growing in retirement?
Join a book club in your community or online.
Learn a different language or about different cultures.
Learn how to play an instrument or begin a new hobby.
Volunteer in your local library or museum.
Teach or enroll in a class.
Play video games with your grandchildren.
Listen to a podcast that aligns with your interests and hobbies.
Watch a TEDtalk, like this TEDtalk with Seth Streeter.
Connect and mentor younger generations with past experiences, good and bad.
Career Dimension of Life™
Have you found a second act or new vocation/business you're passionate about?
Start a part-time or limited hour role in a field you're passionate about.
Volunteer with the skillset you've gained through your career.
Learn something new every day, even after retiring.
Mentor younger generations, children or grandchildren in their career journey.
Learn to shift your focus from your career to your passions.
Remember, you don't have to retire, especially if you love what you do.
Start a new business.
Impact Dimension of Life™
What is the degree of difference you are making in the community or to the world at large? How can you continue this impact after retirement?
Compliment or share a smile with a stranger.
Volunteer where your passions lie.
Explore local opportunities at your local non-profits or visit online listings, like NPRN.
Take part in a neighborhood or nature cleanup.
Join online nonprofit groups.
Talk to your advisor to ensure your investments. align with your impact and passions.
Donate to a local charity or a cause.
Family Dimension of Life™
How satisfied are you with the depth of your connection and quality time spent with those closest to you? How do those connections change and grow after retirement?
Be present with your family.
Maintain your connections within your family, no matter what medium you utilize.
Be a "yes" family and say yes to new experiences and opportunities.
Hold group chats with family members.
Host weekly Zoom family meetings to stay connected across the country.
Write a letter to family members.
Facetime family members instead of calling.
Try something new together as a family.
Travel or go on vacation with family members, immediate and extended.
Emotional Dimension of Life™
How is your stress level, the quality of your sleep and your attitude, both as you approach retirement and reach retirement?
Manage the amount and quality of sleep you get each night.
Meditate to help manage stress and create calmness.
Avoid watching or listening to the news before going to sleep.
Put down your phone and computer.
Set up a plan or schedule for what is causing you stress (i.e., discuss your retirement plan with your Mission Wealth advisor)
Spend time in nature to destress.
Make time to do something active/physical every day.
Take control of your physical health.
Be flexible and adaptable in your plans - not everything goes to plan.
Physical Dimension of Life™
Our bodies change as we age; are you pleased with how your body looks, feels and functions?
Maintain your routine doctor appointments - be proactive in your health.
Eat a balanced diet.
Move your body in some way, every day.
Take walks in nature.
"Make sport a daily habit" - Nike
Find motivation throughout life experiences to better your health.
Drink enough water every day.
Prioritize medical procedures and don't delay.
Drink lemon water first thing in the morning.
Find physical activities that align with your passions and within your capabilities.
Financial Dimension of Life™
How do you stay satisfied and comfortable with your net worth and income after retiring?
Feel comfortable that you're living within your needs.
Be aware of inflation and how it can affect your expenses.
Look for unnecessary costs and how to reduce.
Understand where exactly your money goes.
Communicate with your family about finances.
Educate younger generations from your financial experiences, good and bad.
Assign higher weight, value, and impact to certain expenses.
Have a cash buffer for protection.
Educate children and grandchildren with the book, "The Psychology of Money."
Social Dimension of Life™
After retiring, how would you rank the caliber of your relationships with friends and in the community?
Join a local or professional club that aligns with your life transition or passions.
Play games, either local or virtual.
Go on hikes with friends and family.
Host Zoom weekly happy hours or game nights.
Meet other retirees at clubs, events, and retirement communitites.
Join a Social Venture Partners group, combining social and impact.
Reach out to a friend you haven't seen in a while.
Go to a park or dog park to meet new people.
Reach out to a friend you haven't spoken to in awhile.
Spiritual Dimension of Life™
Do you have a connection to a grounding framework beyond yourself?
Be open to changing spiritually over time.
Expose yourself to different cultures, environments, and spiritualities.
Have a daily practice of prayer or meditation.

The 5 Finger Prayer: (thumb) those closest to you (pointer) those in leadership (middle) enemies or adversaries (ring) the weak, sick, hungry, poor (pinky) for your children, young people, etc.

Write in a gratitude journal.
Find the common uniting principles with others – be kind, help others, etc.
Be in or near the water.
Practice gratitude in your daily life.
How Mission Wealth Can Help
At Mission Wealth, we do more than manage wealth and investments. When designing a comprehensive financial plan for our clients, we believe that ALL aspects of life should be considered in order to build an effective, meaningful and fulfilling life plan. Learn more about our Inspired Living™ services and programs, or reach out to our experienced team.
An advisor can guide you through the different retirement events you may be facing, such as downshifting in work life, phasing into retirement, full retirement, changing residence, receiving social security income, eligibility for Medicare, and receiving retirement plan distributions. Gain peace of mind that you are prepared and supported, so you can focus on what's important to you during retirement. At Mission Wealth, our fiduciary advisors offer insight and prioritization of your personal goals and aspirations. Explore the Mission Wealth Retirement Guide here.
MISSION WEALTH IS A REGISTERED INVESTMENT ADVISER. THIS DOCUMENT IS SOLELY FOR INFORMATIONAL PURPOSES, NO INVESTMENTS ARE RECOMMENDED. ADVISORY SERVICES ARE ONLY OFFERED TO CLIENTS OR PROSPECTIVE CLIENTS WHERE MISSION WEALTH AND ITS REPRESENTATIVES ARE PROPERLY LICENSED OR EXEMPT FROM LICENSURE. NO ADVICE MAY BE RENDERED BY MISSION WEALTH UNLESS A CLIENT SERVICE AGREEMENT IS IN PLACE.
00413466 09/21