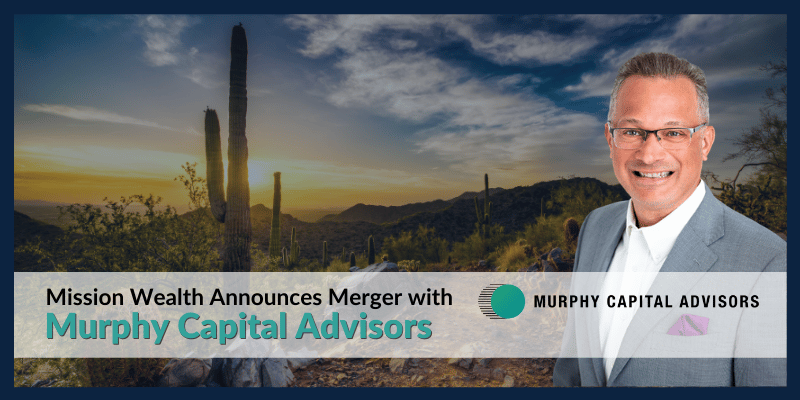 Mission Wealth Announces Merger with Murphy Capital Advisors
---
Mission Wealth is honored to announce that we have merged with Murphy Capital Advisors, a firm founded by Matt Murphy, CFP®. Headquartered in Goodyear, AZ with more than $110 million in assets under management, Murphy Capital Advisors serves clients throughout Arizona, as well as select clients in Illinois. Matt Murphy's partnership strengthens Mission Wealth's existing client service experience in Arizona and will enable our firm to better serve the needs of future clientele in this growing region.
President Dannell Stuart announced, "We are proud to welcome Matt Murphy and Murphy Capital Advisors to Mission Wealth. Matt represents the highest ethical standards in our industry and has consistently led by example with his client-first, fiduciary approach. His numerous leadership roles with the CFP Board and the National Association of Personal Financial Advisors (NAPFA) are examples of his commitment to the financial planning profession. Matt's methodical and holistic approach with clients has attributed to his great success since 2004. We know Matt will fit very well at Mission Wealth with the way we have been serving clients for over two decades. We look forward to the future with Matt as a part of our team."
Please read our full press release on the merger on PR Newswire.
Matt Murphy began his career in audit within the Commodity Futures Industry and then moved into portfolio management support with a large municipal bond asset management firm located in Chicago. Matt earned his CFP® designation in 2003 and over the next 18+ years, he ran his own boutique Registered Investment Advisor firm with an emphasis on comprehensive financial planning. Matt works directly with clients and helps them make informed choices and guides them through some of life's most important financial decisions.
"I am thrilled to take my solo practice to a firm with such an impressive leadership team, quality support infrastructure, technology stack, and a philosophy of putting clients first. I knew that merging with Mission Wealth would be the Fiduciary and the right thing to do to help my clients and to continue to grow. I am so happy to have found Mission Wealth as a partner and I look forward to our continued success." Murphy added.
Throughout his career, Matt has continuously given back and is a true ambassador to the financial planning profession that he loves. Matt served as Commissioner to the CFP Board's Disciplinary and Ethics Commission (DEC) from 2010-2014. He was appointed the Chairman of the DEC in 2014. Matt also served as a Commissioner on the Special Commission on Standards for CFP Board from 2015-2018, where he helped to revise and update the CFP Board's Code of Ethics and Standards of Professional Conduct. In this role, Matt was instrumental in codifying the Fiduciary requirement for all CFP® professionals. The CFP Board asked Matt to return to the DEC from 2020-2022 and provide special advice and counsel with the recently expanded DEC. He is also a past Board Member of the Phoenix Chapter of the Financial Planning Association and has served on numerous committees within NAPFA. He has supported the Homes for Heroes charitable program multiple times as the pro-bono financial advisor for disabled Veterans. Matt also supports Ryan House (Phoenix) and Make-a-Wish® Arizona.
---
"It is a privilege to share that Matt Murphy with Murphy Capital Advisors has joined the Mission Wealth team as both an advisor and partner. This past year I had the opportunity to get to know Matt and I am confident he will be a great fit for our team and culture. He is clearly committed to serving his clients and to being a leader within our industry. After visiting his office in Arizona and meeting his family, Matt Murphy firmly represents the values and caring approach that serve as the foundation of Mission Wealth. I look forward to a thriving partnership together and to expanding our reach in the Phoenix region."
said
Seth Streeter,
Founder and Chief Impact Officer of Mission Wealth.
Mission Wealth Provides Financial Planning Nationwide
Mission Wealth is a nationally recognized RIA founded in 2000 that oversees more than $5.2 Billion in client assets under management/administration after the acquisition. Mission Wealth is known for its service model, driven by a world-class technology stack that offers financial planning, investment counsel, tax strategies, estate planning coordination, philanthropic advice, and risk management solutions tailored to each client's needs.
Mission Wealth's vision is to provide caring advice that empowers families to achieve their life dreams. Our founders were pioneers in the industry when they embraced the client-first principles of objective advice, comprehensive financial planning, coordination with other professional advisers, and proactive service. Mission Wealth is a fiduciary, and our holistic planning process provides clarity and confidence.
If you are looking for more information about Mission Wealth's financial planning or wealth management services, please reach out to our experienced team of advisors.
Mission Wealth Offices in Arizona
---
MISSION WEALTH IS A REGISTERED INVESTMENT ADVISER. THIS DOCUMENT IS SOLELY FOR INFORMATIONAL PURPOSES, NO INVESTMENTS ARE RECOMMENDED. ADVISORY SERVICES ARE ONLY OFFERED TO CLIENTS OR PROSPECTIVE CLIENTS WHERE MISSION WEALTH AND ITS REPRESENTATIVES ARE PROPERLY LICENSED OR EXEMPT FROM LICENSURE. NO ADVICE MAY BE RENDERED BY MISSION WEALTH UNLESS A CLIENT SERVICE AGREEMENT IS IN PLACE.
00488538 01/23