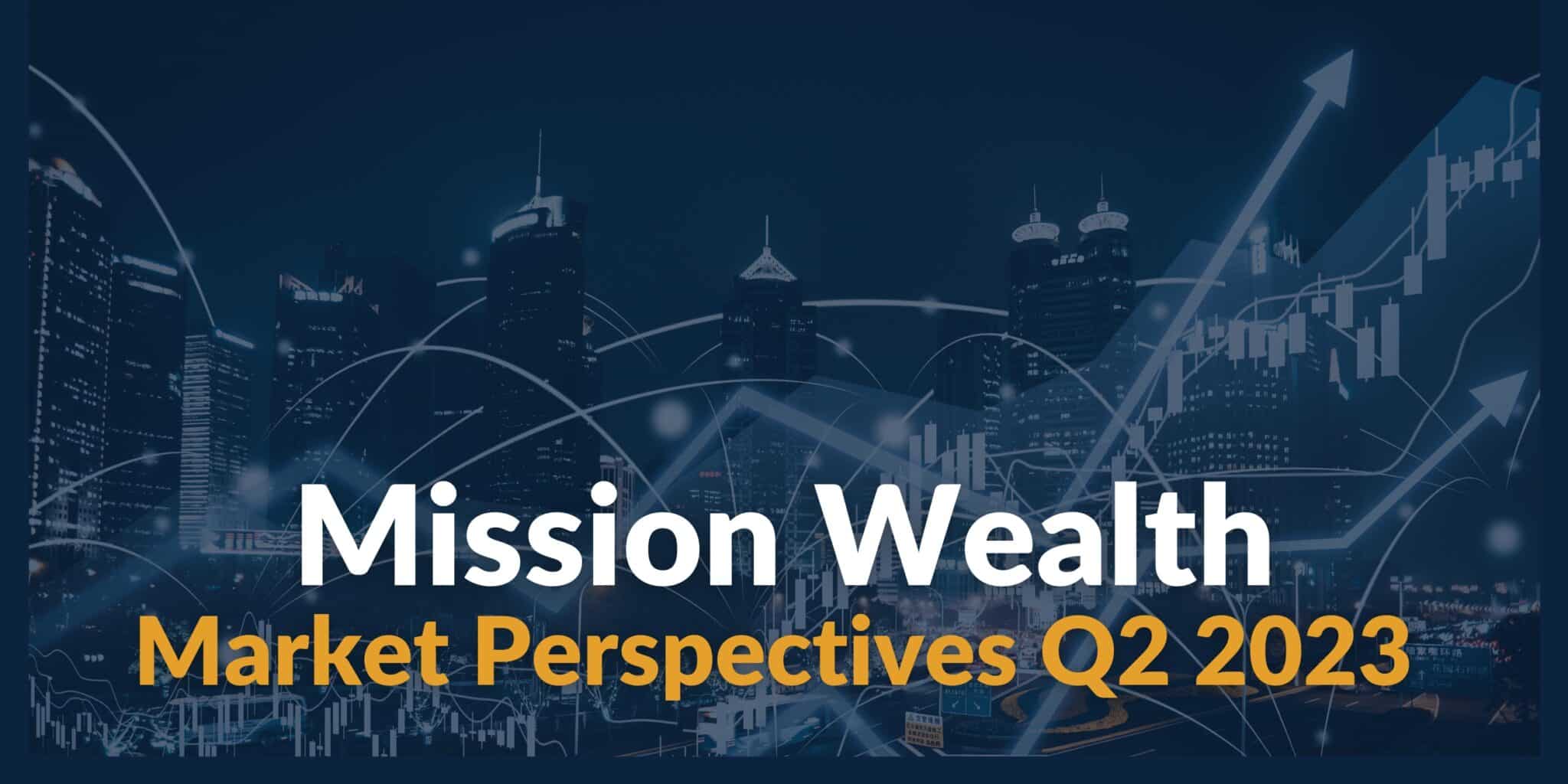 Read Mission Wealth's Market Perspectives for the second quarter of 2023. Join Chief Investment Officer, Kieran Osborne to learn the latest updates on financial markets, the economy, and our outlook moving forward.
What Can We Expect for the Markets and the Economy? 
Despite some weakness associated with regional banking concerns, stocks have largely moved higher this year. Fed policy approaching terminal rate, moderating inflation, and less severe impact from the regional banking issues have all helped sentiment. While volatility spiked at the height of the regional banking concerns, it didn't come close to historic levels. There were multiple instances in the past 24 months when the VIX spiked higher, indicating the market doesn't believe regional banking issues will cause wide-ranging, systemic issues. We have witnessed divergence in stock performance this year, with Growth stocks outperforming Value, following underperformance in 2022. After a historically weak year, bond yields have largely been range bound, as the market gains increasing clarity on Fed policy.
There is diverging data on the economy. On the one hand, the labor market continues to be resilient, supporting consumer spending. On the other hand, reduced lending activity and tighter credit conditions may weigh on economic activity. The economic impact of the regional banking issues appears milder than many had originally feared. However, the risks of a recession are elevated, but should one occur, we believe it would be relatively mild in comparison to 2008 and 2020. We also believe the Fed would need to see a significant deterioration in economic fundamentals such that inflation rapidly moves towards its 2% target for the Fed to consider cutting rates earlier than their current timeline suggests.
Over the next decade, we expect a moderation in stock returns relative to the strength experienced in the post-GFC era, given the structural shift towards tighter policies. We are not bearish on stocks, we simply believe expectations should be reset for stock returns more aligned with historic averages of mid- to high-single digits. Bond yields are a lot more attractive today than 18 months ago, and we are more constructive on the outlook for bond returns, with many of our preferred bond funds yielding mid-single digits. We believe select alternative strategies are well positioned to generate enhanced risk-adjusted returns and yields, with limited correlation to the broad stock market.
Financial Guidance For Your Life Journey
Talk with a financial planner about your next steps.
Guidance For Your Full Financial Journey
Through our comprehensive platform and expertise, Mission Wealth can guide you through all of life's events, including retirement, investment planning, family planning, and more. You will face many financial decisions. Let us guide you through your options and create a plan.
Mission Wealth's vision is to provide caring advice that empowers families to achieve their life dreams. Our founders were pioneers in the industry when they embraced the client-first principles of objective advice, comprehensive financial planning, coordination with other professional advisors, and proactive service. We are fiduciaries, and our holistic planning process provides clarity and confidence. For more information on Mission Wealth, please visit missionwealth.com.
To meet with a Mission Wealth financial advisor, contact us today at (805) 882-2360.
00518515 05/23