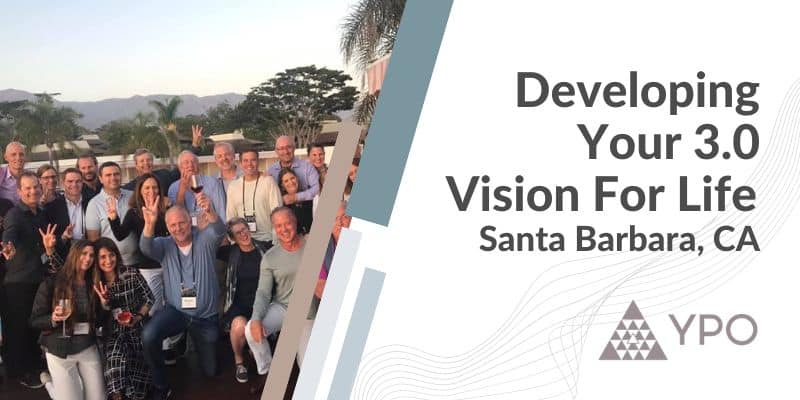 In September 2019, Seth Streeter, Founder and CEO of Mission Wealth, led his second YPO "Developing Your 3.0 Vision for Life" multi-day retreat for 31 CEO's and spouses at The Four Season's Biltmore Resort in beautiful Santa Barbara, California.
---
Press play on the video avbove or click here to watch the "Developing Your 3.0 Vision for Life" event video by Greg Kroes of Mountain View Films, based in Santa Barbara, California.
---
As a longtime YPO member himself, Seth recognizes that many individuals achieve "success" in the traditional sense - like starting and growing a business - but may not feel completely fulfilled in other areas of their lives. Eventually, there comes a time when we begin to ask, "What's next?"
Seth developed this "3.0 Vision for Life" retreat as a way to inspire and ignite a third phase of life for YPO members and spouses, which is centered around purpose, meaning, and impact.
Over the course of four days, participants were led on a journey of self-discovery and growth, with collective sharing, to design and put into action their next phase of life plan.
While attendee ages ranged from 40's to 70's, many of them felt prompted to dive into this program after experiencing a "life event" in recent years, such as: retirement, becoming empty nest parents, sale of a company, losing a parent or having a personal health scare. By taking time to step back and ask deep questions, participants were able to design and cultivate their ideal 3.0 vision for life.
The program started each day with yoga with Kelly Heath, strong workouts led by Jenny Schatzle from Bond Fitness and Alex Ash from The LAB, and included time in nature to reflect and cultivate mindfulness.
World-class guest speakers were invited to participate in leading sessions, sharing their knowledge and expertise.
Shaun Tomson, World Surfing Champion, best-selling author of "Surfer's Code" and "The Code: The Power of 'I Will'", writer and producer of the award-winning documentary film Bustin' Down the Door, and TEDx speaker, led an inspirational field trip and facilitated the creation of powerful "I WILL" declarations.
Dr. Elizabeth Lombardo, a well-known psychologist, who has been featured on the TODAY Show, Dr. Oz, and The Steve Harvey Show, author and 2x TEDx speaker, spoke on improving relationships and finding new levels of happiness. She shared with the group her perspective on how to be imperfect and about the difference between conditional self-worth versus unconditional self-worth.
Dr. Barbara De Angelis, an acclaimed spiritual teacher and New York Times #1 Best Selling author, who has sold more than 10 million copies of her books on deepening our conscious connections, led the group in exercises focused around personal and spiritual development.
Throughout the event, participants enjoyed wonderful and healthy culinary fare prepared by the Four Seasons Resort The Biltmore, daily excursions including walks along the beach to sacred burial grounds, beautiful visioning exercises underneath an enormous fig tree, "ignite ceremonies" held at the evening fire, and private picnics and concerts held at the world-renowned Music Academy of the West.  
Seth Streeter led and facilitated an action-packed journey with various exercises, shared in dynamic small and large group formats, all encapsulated in his 56-page guidebook.
Attendees left with inspiration and clarity about how they want to launch into their exciting next phase of life.
"Seeing a group from around the world transform from being strangers to kindred supporters, each with tangible ideas and actions for how they can grow into an exciting next chapter in life that is purposeful and joyful is so deeply rewarding.  I feel so lucky to be a part of this contagious upswell of inspiration that I know carries a positive ripple-effect into the world!" - Seth Streeter
Are you living your life in a way that brings you joy and meaning?
Join the Inspired Living™ movement to elevate your past, present and future. Let us introduce you to prominent thought-leaders, life coaches, and influencers who can work together with you to develop your customized life plan. We will give you curated resources, actionable advice and targeted strategies during your journey of self-discovery. Then we will align your multi-dimensional and multi-faceted life with your ultimate vision so that you can become the BestU™ in your life journey. Learn More
00351707 10/19
---