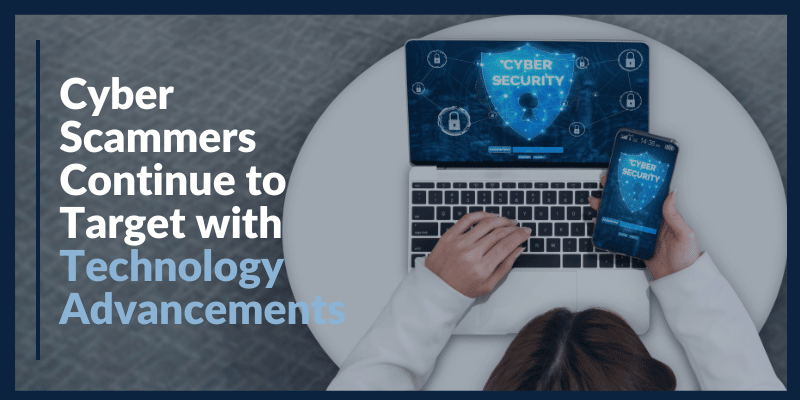 This International Fraud Awareness Week, Partner and Client Advisor Amanda Thomas shares her personal and professional tips on preventing fraud to protect your money.
November 13-19, 2022, is International Fraud Awareness Week, and working in the financial world, we hear more stories about fraud than most people. Clients share their stories and nightmares about how they were affected by fraud and the repercussions of trying to fix it or retrieve their losses. I have a personal history of identity theft and have previously written articles including tips on how to prevent it.
My quick solution was to freeze my three credit reports (Experian, Tran Union, and Equifax) and I have not had any problems since. In addition, I signed up for fraud alerts with Experian should someone try to open a bank account in my name, my Social Security number was used improperly, or they found my email on the dark web. So far so good, but I am always on high alert for anything that looks suspicious.
The easiest and most common scam seems to be when someone gets your credit card info and starts charging online purchases. One solution to this is to have an email or text alert set up on all your bank accounts so you are alerted when a charge is made, or a check clears. This recently happened to my husband and within 5 minutes we were on the phone with our credit card company, and they were able to stop numerous fraudulent charges that were pending on the card.
One time, a client had her purse stolen from her car outside her house. Since we already set her up with bank transaction alerts, she got a text when the fraudsters started using her charge card and she immediately notified her credit card company.
Protecting Your Digital Assets from Fraud
Digital assets are growing at a fast pace, and keeping track of locations, usernames, and passwords is important not only for personal use but for those who will manage your estate. The old way of keeping a list next to your computer is no longer safe, and with hackers constantly trying to gain access to account holder info, one must take proactive precautions to keep data safe. Read my previous article on keeping your
digital assets
safe.
---
Ready to work with an expert to create a financial future for your family?
Meet Partner and Client Advisor Amanda Thomas
Scams on the Rise for 2023
Since technology has greatly helped create the latest fraud techniques, an article from Experian lists "the latest scams you need to be aware of in 2023". A few we have all experienced - robocalls from the IRS or the police department wanting you to call them about something suspicious which then can lead to them asking for your personal information. A quick reminder that the IRS will NOT call you.
Others can be texts that look like they come from a reliable source (usually bank alerts or professionals) but are really scammers trying to have you log in to a fraudulent site so they can get your username and password. There are a few new scams that caught my eye in this article, especially the use of QR codes. I encourage you to take a look and share the article with family and friends ahead of the holiday season.
How Mission Wealth Can Help Protect Against Fraud
In summary, the best way that I look at protecting my financial assets is by building a strong wall around my money and doing my best to not let anyone in. It's the same action I take for my clients. Dual authentication on all financial accounts, text alerts for banking transactions, verbal passwords on investment accounts should someone try to imitate you, never picking up a spam call, and not posting anything on social media that alerts someone that you are not at home. Don't give the fraudsters any way to get into the "walls" you've built and only use trusted websites for online information or charges.
To learn more about what you can do to protect yourself from online fraud or cybercrime, give us a call or contact your Client Advisor.
Copyright © 2022, Mission Wealth is a Registered Investment Advisor. All rights reserved.
MISSION WEALTH IS A REGISTERED INVESTMENT ADVISER. THIS DOCUMENT IS SOLELY FOR INFORMATIONAL PURPOSES, NO INVESTMENTS ARE RECOMMENDED. ADVISORY SERVICES ARE ONLY OFFERED TO CLIENTS OR PROSPECTIVE CLIENTS WHERE MISSION WEALTH AND ITS REPRESENTATIVES ARE PROPERLY LICENSED OR EXEMPT FROM LICENSURE. NO ADVICE MAY BE RENDERED BY MISSION WEALTH UNLESS A CLIENT SERVICE AGREEMENT IS IN PLACE.
00483932 11/22