Barron's 2023 Ranking Lists Mission Wealth a Top 100 RIA Firm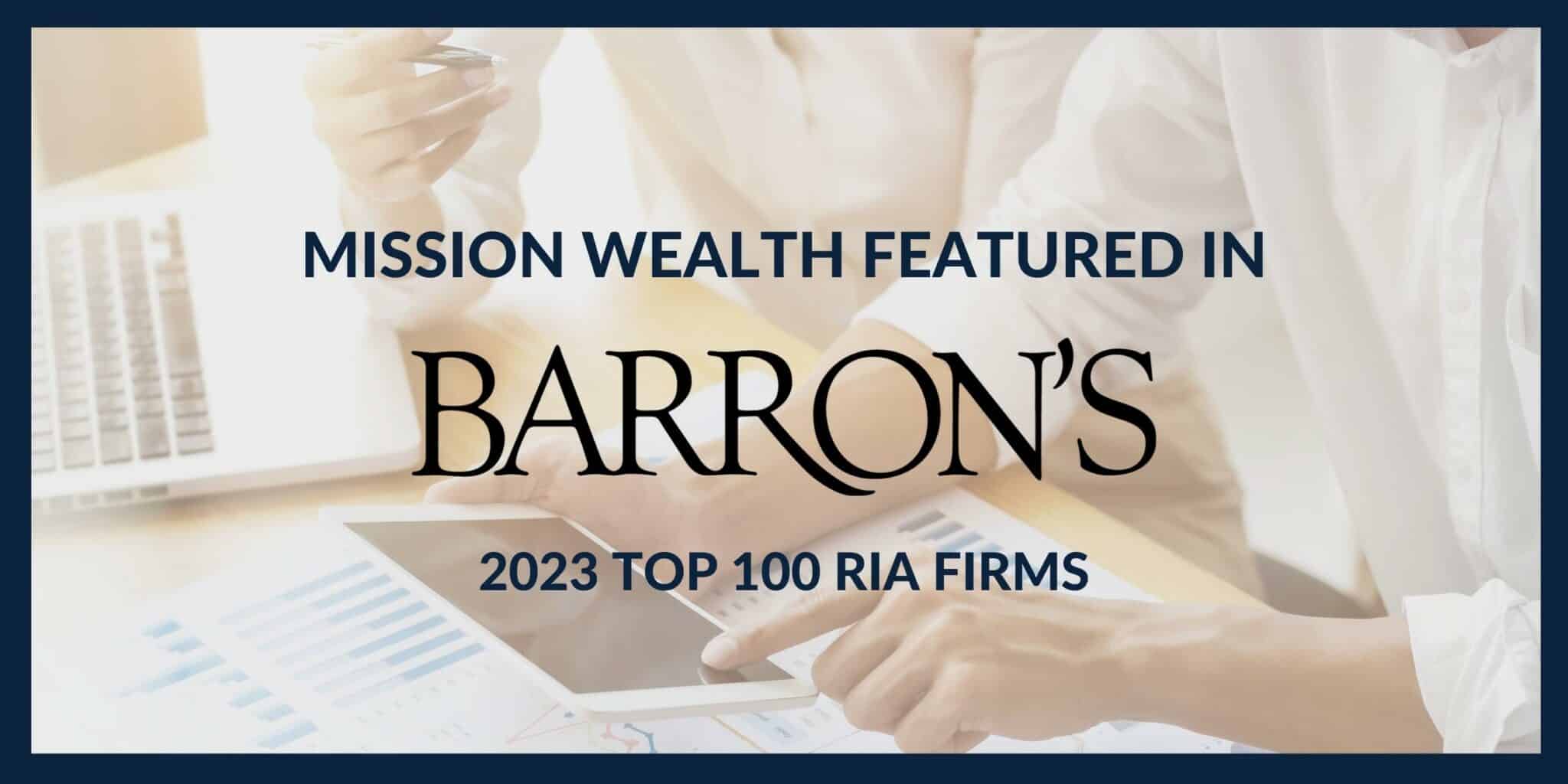 Mission Wealth is honored to announce our ranking in the prestigious Barron's Top 100 RIA Firms in the Nation for 2023. This marks the third consecutive year that Mission Wealth has received this distinguished recognition, ascending in rank to #80, a notable achievement following #89 in 2022 and #100 in 2021. Barron's, renowned for its annual ranking of outstanding independent advisory companies, evaluates firms based on assets under management, technology investments, workforce diversity, succession planning, and various other metrics.
"We are honored by this recognition, and we are humbled to find ourselves among such prestigious company. At Mission Wealth, our vision is to be the leading wealth management firm in the nation, guiding people to achieve their full potential. We have an unwavering commitment to remain culture-first, client-centric, and innovative." said Mission Wealth President, Dannell Stuart. "We are proud of this recognition, as it is a testament to our dedicated team of ambitious and inspiring individuals."
At Mission Wealth, our mission is to exemplify excellence in how we support our clients, team members, and the communities we serve. The firm is steadfast in providing compassionate guidance that empowers individuals to pursue and attain their aspirations. Our commitment to achieving exceptional outcomes, nimbleness in finding solutions, and continuous adaptation to embrace new opportunities define our approach. The Barron's Top 100 RIA Firms accolade underscores Mission Wealth's culture and values, adding to our growing list of industry recognitions.
Barron's introduced its inaugural advisor ranking in 2004, aiming to spotlight the nation's premier wealth management firms and elevate industry standards. It now releases four individual advisor rankings annually (Top 100 Advisors, Top 100 Women Advisors, Top 100 Independent Advisors, Top 1,200 Advisors), along with three team or firm-based rankings (Top RIA Firms, Top Institutional Consultants, Top Wealth Management Firms).
About Barron's Top RIA Firms Ranking and Methodology
Barron's publishes four individual advisor rankings each year (Top 100 Advisors, Top 100 Women Advisors, Top 100 Independent Advisors, Top 1,200 Advisors) along with three team- or firm-based rankings (Top RIA Firms, Top Institutional Consultants, Top Wealth Management Firms).
The goal is to shine a spotlight on the nation's best financial advisors, with an eye toward raising standards in the industry. The rankings serve two distinct types of Barron's readers. For wealth management professionals, they serve as an industry scorecard. For investors, the rankings are a tool that can help in the process of finding financial guidance.
Advisors who wish to be ranked fill out a 102-question survey about their practice. Barron's will verify that data with the advisors' firms and with regulatory databases and then will apply their rankings formula to the data to generate a ranking. The formula features three major categories of calculations: (1) Assets (2) Revenue (3) Quality of practice. In each of those categories, Barron's also completes multiple subcalculations.
For instance, they take into account not just the amount of assets an advisor manages, but also the type of assets—are they private-wealth assets or institutional? If they're institutional, are they for a foundation or an endowment, or are they corporate assets? Barron's measures the growth of advisors' practices and their client retention. They also consider a wide range of qualitative factors, including the advisors' experience, their advanced degrees and industry designations, the size, shape, and diversity of their teams, their charitable and philanthropic work and, of course, their compliance records.
Financial Guidance For Your Life Journey
Talk with a financial planner about your next steps.
Guidance For Your Full Financial Journey
Through our comprehensive platform and expertise, Mission Wealth can guide you through all of life's events, including retirement, investment planning, family planning, and more. You will face many financial decisions. Let us guide you through your options and create a plan.
Mission Wealth's vision is to provide caring advice that empowers families to achieve their life dreams. Our founders were pioneers in the industry when they embraced the client-first principles of objective advice, comprehensive financial planning, coordination with other professional advisors, and proactive service. We are fiduciaries, and our holistic planning process provides clarity and confidence. For more information on Mission Wealth, please visit missionwealth.com.
To meet with a Mission Wealth financial advisor, contact us today at (805) 882-2360.
00544128 09/23