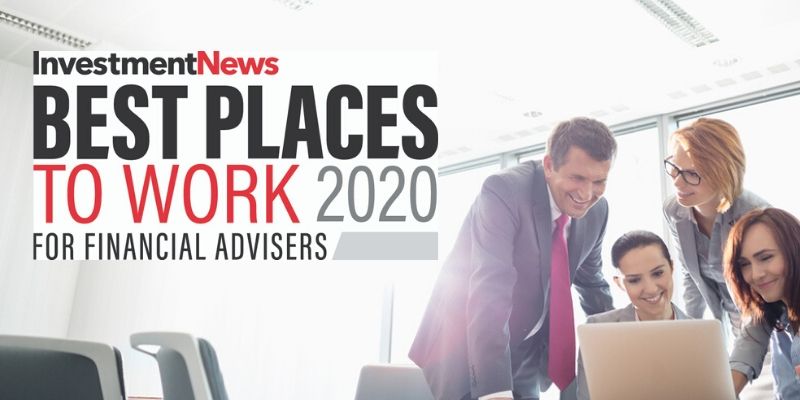 ---
InvestmentNews has recognized Mission Wealth as a 2020 Best Place to Work for Financial Advisers.
Now in its third year, the InvestmentNews Best Places to Work for Financial Advisers program showcases financial advice businesses that create supportive work environments for all their professionals. It is from these encouraging foundations that advice firms can provide high quality and personalized investment and financial planning for clients.  
Mission Wealth was chosen as #1 of this year's top medium sized firms (those with 30-49 employees) based on employer and employee surveys, evaluating company culture, benefits, career paths, and more.
"We never take for granted the trust our clients have placed in us. This drives our commitment to proactively add value in their lives, and to doing so in new ways. We cultivate a caring, service-oriented culture that emphasizes constant improvement for ourselves, our clients and for our firm. We take pride in being future-forward and adaptive to ensure we continually achieve exceptional results" said Seth Streeter, Founder and CEO. "For us, success is not just about numbers on a balance sheet, it is about helping people live happy and fulfilled lives."
InvestmentNews partnered with Best Companies Group, an independent research firm specializing in identifying great places to work, to compile the survey and recognition program.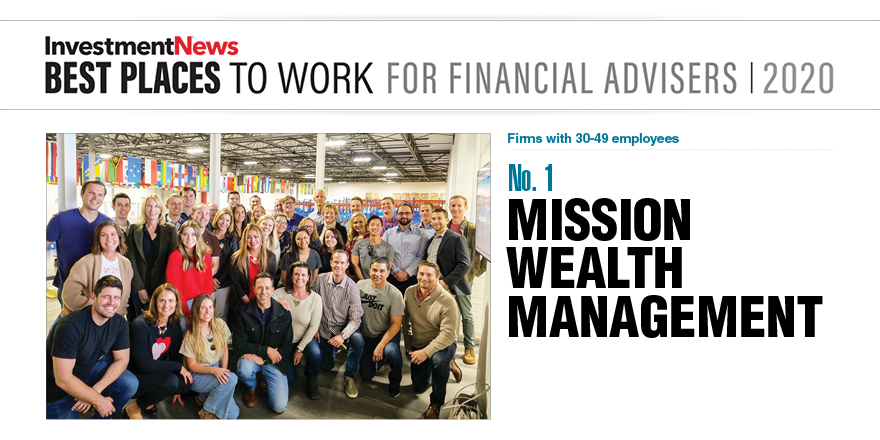 "We are thrilled to identify, and  commend, these 75 firms that understand the importance of a strong workplace culture," said George Moriarty, InvestmentNews chief content officer. "They are role models to the industry, in that they empower advisers to focus on delivering exceptional service to their clients."
To be eligible for consideration, organizations must meet all of the following criteria, including: 1) be in business a minimum of one year; 2) have a minimum of 15 employees in the United States (all employees in the company should be included in the employee count, not just the financial advising department); 3) be a registered investment adviser (RIA), affiliated with (but not an employee of) an independent broker dealer (IBD), or a hybrid/dually-registered firm affiliated with an IBD and doing business through an RIA (firms should directly provide financial advice to households or organizations). To ensure credibility, organizations having 15-24 employees must have an 80% or better response rate on the employee survey.
Mission Wealth is highlighted in the April 27th issue of InvestmentNews and at www.InvestmentNews.com.
About InvestmentNews
InvestmentNews is the leading source for news, analysis and information essential to the financial advisory community. Since 1998, their standard of editorial excellence and deep industry knowledge has allowed InvestmentNews to educate, inform and engage the most influential financial advisers. Through their weekly newspaper, website, newsletters, research, events, videos and webcasts, InvestmentNews provides exclusive and up-to-the-minute news, as well as actionable intelligence, that empowers financial advisers to serve their clients and run their businesses more effectively whenever, however and wherever they need it. Headquartered in New York, with offices in Chicago and Washington D.C., InvestmentNews is part of London-based Bonhill Group plc. Learn more at www.InvestmentNews.com.
00365525 04/20