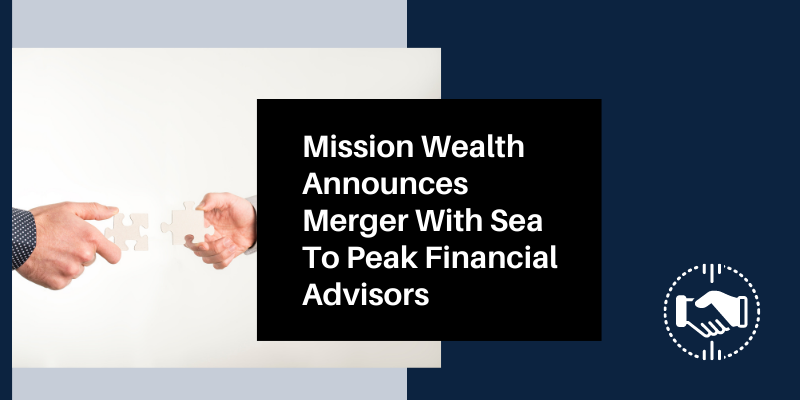 Santa Barbara, CA – October 1, 2021 – Mission Wealth LP announced today that it has merged with Sea to Peak Financial Advisors, a firm that operates out of both Seattle and Denver and oversees approximately $90 million in assets under management. Sea to Peak's dedicated team not only strengthens Mission Wealth's existing client service experience in Washington and Colorado, but the partnership will also enable Mission Wealth to better serve the needs of future clientele in these evolving regions.
Chief Executive Officer Matthew Adams announced, "We are thrilled to merge the entire team at Sea to Peak into Mission Wealth. From our very first conversation with Steph, we knew her team's passion for comprehensive wealth management, investment counsel, and the client experience was a perfect fit. As we have grown to know each other better over subsequent months, it has solidified my respect for what she has built, confirmed our strong cultural match, and reinforced our collective belief in the importance of giving back to our local communities."
Stephanie Bruno founded Sea to Peak with the vision of delivering goals-based advice to her clients that was both comprehensive and caring but that also touched on aspects of the client's life beyond their balance sheet. As Sea to Peak enters its tenth year, Steph was looking to join a firm with more resources and dedicated support teams that also shared her vision of bringing meaning to a client's financial life.
 "I am honored to merge with an organization that is dedicated to providing caring advice to empower people to live their life's dreams. This combination of care and expert technical and investment advice will benefit my existing and future clients." Stephanie Bruno added.
From her Seattle and Denver hubs, Steph is passionate about serving her clients and finding unique planning opportunities that help her clients achieve their broader life goals. Her process combines a focus on the joy and inspiration in life while tailoring more traditional investment and financial planning solutions. Steph has obtained some of the industry's highest certifications including Certified Financial Planner®, Chartered Life Underwriter®, Accredited Investment Fiduciary®, Certified Private Wealth Advisor® and a Retirement Management AdvisorSM.
"We are passionate about making an impact in our client's lives, and are always invigorated when we find like- minded advisors like Steph and Kristi. We are very proud to add them to the team and to learn from their perspective on client service. As a 100% employee-owned firm, we feel we have a natural advantage in mergers and integrations and can be more flexible in the process. Our motivation is beyond just a financial one as we seek to remain an innovator in our industry and to attract advisors that truly want to be part of something exceptional." said Matthew Adams.
Mission Wealth is a nationally recognized RIA founded in 2000 that oversees $4.6 Billion in client assets under management after the merger. Mission Wealth is known for its service model, driven by a world-class technology stack that offers financial planning, investment counsel, tax strategies, estate planning coordination, philanthropic advice, and risk management solutions tailored to each client's needs. Beyond finances, the Inspired Living™ platform of Mission also helps clients achieve more balance in their lives and personal fulfillment.
Mission Wealth's vision is to provide caring advice that empowers families to achieve their life dreams. Our founders were pioneers in the industry when they embraced the client-first principles of objective advice, comprehensive financial planning, coordination with other professional advisers, and proactive service. Mission Wealth is a fiduciary, and our holistic planning process provides clarity and confidence. For more information on Mission Wealth, please visit missionwealth.com.
MISSION WEALTH IS A REGISTERED INVESTMENT ADVISER. THIS DOCUMENT IS SOLELY FOR INFORMATIONAL PURPOSES, NO INVESTMENTS ARE RECOMMENDED. ADVISORY SERVICES ARE ONLY OFFERED TO CLIENTS OR PROSPECTIVE CLIENTS WHERE MISSION WEALTH AND ITS REPRESENTATIVES ARE PROPERLY LICENSED OR EXEMPT FROM LICENSURE. NO ADVICE MAY BE RENDERED BY MISSION WEALTH UNLESS A CLIENT SERVICE AGREEMENT IS IN PLACE.