Quarterly Market Perspectives: Q3 2023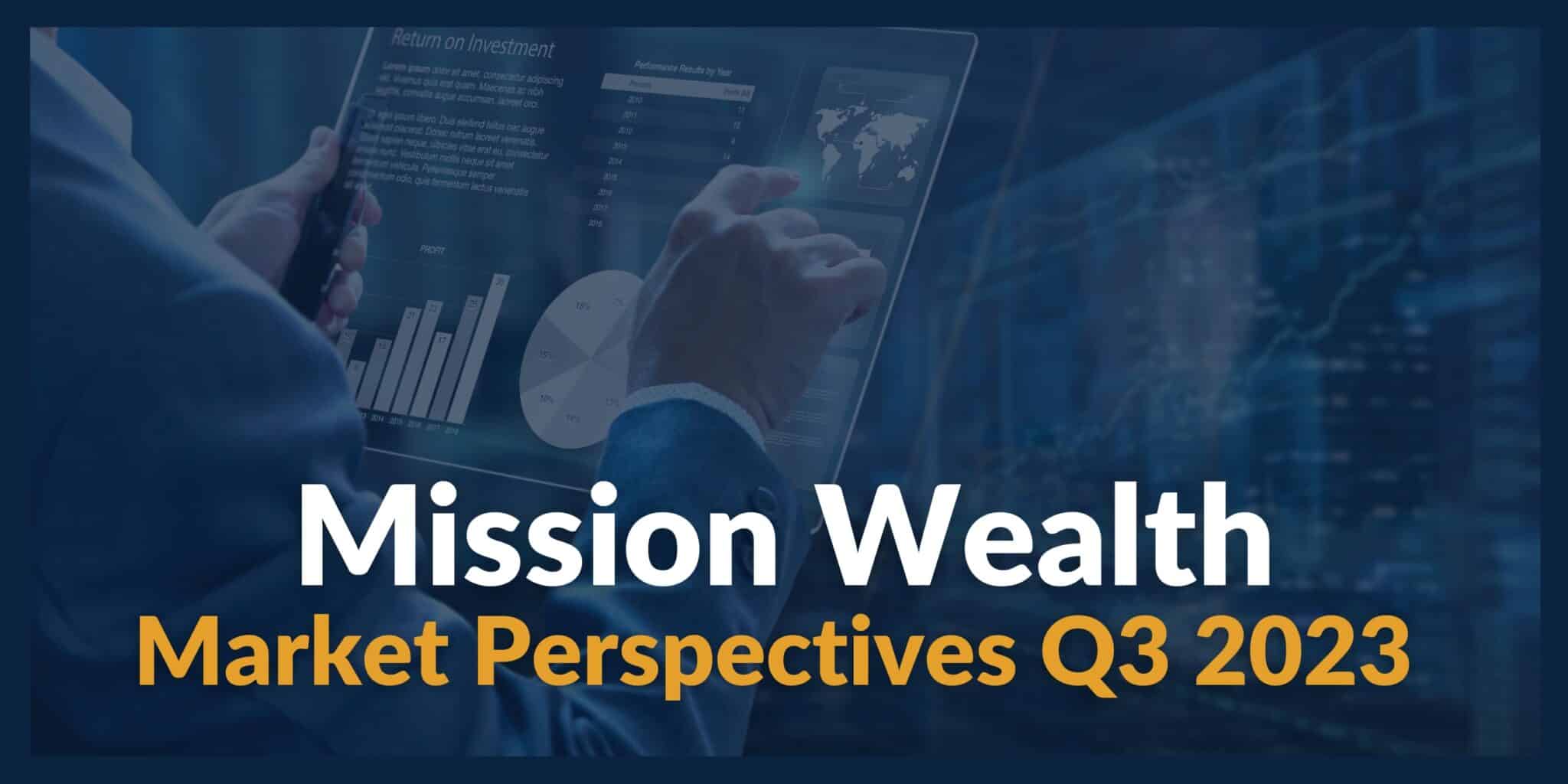 What Can We Expect for the Markets and the Economy for the Remainder of 2023? 
In the ever-changing world of finance, it's crucial to stay informed about the latest market trends. As we navigate the remaining landscape of 2023, we wanted to share some key insights that may shed light on our investment outlook.
Q3 Key Market Perspectives Takeaways:
Optimism with Caution: We're optimistic about stock market prospects, though we anticipate a more moderated pace of growth compared to the strong performance earlier this year. While returns may ease, it's essential to maintain a balanced perspective.

Resetting Expectations: Looking ahead, it's wise to realign our expectations for equity returns. Historic averages of mid to high-single digits seem more likely due to shifts in monetary policies, emphasizing the importance of a long-term perspective.

Bonds in Focus: Bond yields present an attractive opportunity. Bond yields not only offer potential protection during market fluctuations but are also influenced by broader economic forces. Bond yields can play a significant role in enhancing portfolio stability.

Diversification and Flexibility: In our pursuit of consistent returns, we're exploring alternative investment strategies. These strategies may offer higher potential returns with controlled risk, which is particularly important should the stock market experience a slowdown.
While the stock market has remained resilient amidst banking concerns, it's important to recognize the broader context of market dynamics. We've witnessed growth stocks outperforming after a period of underperformance, underscoring the value of strategic and disciplined portfolio rebalancing.
On the bond front, yields have shown some fluctuation this year, influenced by shifts in Fed policy rates. While overall bond market gains have been modest, credit-oriented bonds have outperformed.
Economic data has consistently exceeded expectations, leading to revisions in growth forecasts. While the potential for a "soft" or "no landing" economic outcome has increased, challenges such as a slowing labor market and tighter credit conditions remain.
As inflation trends lower but remains above the Fed's target, it's prudent to anticipate potential shifts in interest rates. We're entering a phase where sustained higher interest rates are likely, reflecting broader trends in monetary policy.
For a deeper understanding of these insights and their impact on your investment journey, we invite you to explore the full Quarterly Market Perspectives report by clicking the link below. Staying informed and adaptable is key to achieving your financial goals.
For all this and more, please download our Quarterly Market Perspectives.
Financial Guidance For Your Life Journey
Talk with a financial planner about your next steps.
Guidance For Your Full Financial Journey
Through our comprehensive platform and expertise, Mission Wealth can guide you through all of life's events, including retirement, investment planning, family planning, and more. You will face many financial decisions. Let us guide you through your options and create a plan.
Mission Wealth's vision is to provide caring advice that empowers families to achieve their life dreams. Our founders were pioneers in the industry when they embraced the client-first principles of objective advice, comprehensive financial planning, coordination with other professional advisors, and proactive service. We are fiduciaries, and our holistic planning process provides clarity and confidence. For more information on Mission Wealth, please visit missionwealth.com.
To meet with a Mission Wealth financial advisor, contact us today at (805) 882-2360.
00538629 08/23