As 2022 comes to a close and we reflect on what has been a highly uncertain year, we are optimistic on the outlook for many asset classes. We believe our portfolios are well positioned to navigate ongoing, near-term volatility, and ultimately will continue to meet the long-term financial goals of our clients. We hope you are enjoying a wonderful holiday season and we wish you and your families a happy and healthy new year.
2022: A Highly Unusual and Uncertain Year
Uncertainty dominated markets in 2022. Concerns surrounding inflation, the Fed raising interest rates, and the war in Ukraine all underpinned an increase in volatility throughout the course of the year. It was also an unusual year regarding stock and bond returns, as both moved lower in tandem.
Historically, stocks and bonds move in opposite directions: when stocks sell off, bonds tend to hold their value or rally. This was not the case in 2022, as the Fed's tightening policies drove bond yields higher (bond prices lower) and concurrently weighed on the stock market. Once there is more clarity surrounding monetary policy, we anticipate bond prices may stabilize and once again act as the anchor for well-diversified portfolios, zigging when the stock market zags. Indeed, we are much more constructive on the outlook for bond returns, given current bond yields.
---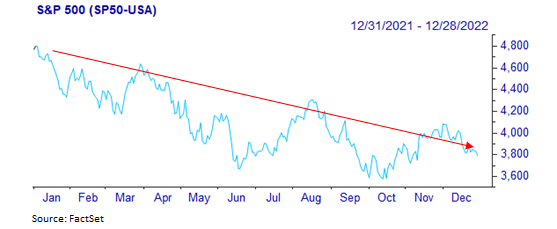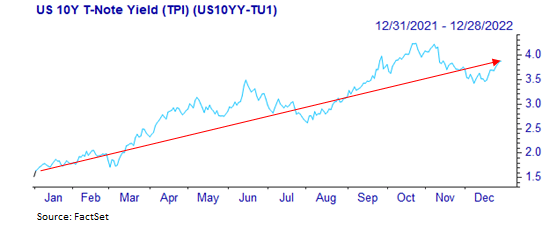 Ahead of 2022, we positioned portfolios in anticipation of a structural shift in monetary policy, and elevated, sticky inflation. We allocated our core fixed income positions with less duration (or interest rate sensitivity) than the broad bond market, which proved beneficial as we experienced a backdrop of tighter monetary policies driven by Fed interest rate increases. Given the inverted nature of the yield curve (longer-dated Treasury yields are lower than shorter-dated yields), we are emphasizing the shorter end of the yield curve which currently offers more attractive yield potential relative to longer-dated maturities.
Speaking of yield, we actively increased exposures to alternative, income-generating asset classes and floating rate securities, all of which have performed relatively well despite the broad public market weakness. Whereas rising interest rates weighed on public markets, many of these strategies benefited from the rising interest rate environment, given the floating rate nature of several of these strategies. Moreover, with heightened and sticky inflation, our real-estate backed income-oriented strategies performed particularly well and we continue to favor the asset class, which has historically been one of the best inflation hedges.
Enhanced Rebalancing Opportunities
This year's volatility brought with it divergence in performance across asset classes, which provided enhanced rebalancing opportunities. Our disciplined approach to rebalancing aims to take emotions out of the investment decision-making process and implicitly forces us to "buy low, sell high". For instance, we had been trimming Growth stocks in favor of Value stocks ahead of 2022 based on relative performance at the time. Many high-profile Growth stocks subsequently came under pressure this year and Value stocks have significantly outperformed. International stocks are another example. We had been adding to International stock exposures through the third quarter of the year based on relative underperformance at the time. International stocks have since rallied and outperformed U.S. stocks. We believe this disciplined approach to rebalancing may add to portfolio performance over the long term.
---
Tax Loss Harvesting – the Silver Lining of a Down Market
While no one likes a down market, we took advantage of the weakness across public stocks and bonds to tax loss harvest where appropriate across our clients' taxable accounts. Tax loss harvesting can provide
significant tax savings
and enhance after-tax returns. The losses harvested can often be used to help offset gains elsewhere in the portfolio, and, in many instances, allowed us to reduce concentrated stock exposures
,
and ultimately improve the overall risk profile of many clients' accounts.
---
---
Outlook – Structural Shift Underway
We believe there is a structural shift underway as it pertains to monetary policy. Whereas the years following the Global Financial Crisis (GFC) of 2008 were marked by easy monetary policies (low interest rates and quantitative easing, or QE), we believe the forthcoming period is likely to be marked by tighter policies, such as higher interest rates and quantitative tightening, or QT. This outlook has distinct implications for asset classes.
We anticipate a moderation in stock market returns over the next decade, though there may be some upside over the near term. That's not to say our long-term view is bearish for stocks; our outlook is constructive from current levels. We simply believe expectations need to be reset lower from the outsized returns experienced in the years ended 2021 (for example, the 10-year return through year-end 2021 for the S&P 500 was +16.5%). Easy monetary policies acted as a tailwind for the stock market and arguably helped elevate stock market returns during those years. Going forward, we believe stock market returns are likely to moderate back in line with historic averages of mid- to high-single digit annualized returns.
While we anticipate ongoing, near-term volatility until we receive greater clarity regarding the Fed's interest rate policy, we are more constructive on the outlook for the bond market given current yields. The current yield on a bond portfolio is the single largest determining factor for subsequent period returns. Many of our preferred fixed income strategies are already yielding mid-single digits and, in some instances, higher. Given the expectation for a moderation in stock market returns, bonds have become relatively more attractive compared to the post-GFC environment. At the very least, we anticipate the spread between stock market returns and bond returns to narrow in the years ahead.
---

---
With this backdrop, we believe alternative, income-oriented strategies may perform particularly well over the next decade. These strategies aim to generate high single-digit returns with consistent income and little correlation to the broad stock market.
Overall, we believe our portfolios are well positioned for the forthcoming period, offering diversification across multiple asset classes, generating income for today and growth for tomorrow.
Thank you for your continued support as we look forward to a brighter 2023. As always, should you have any questions, please do not hesitate to contact your Client Advisor.
---
ALL INFORMATION HEREIN HAS BEEN PREPARED SOLELY FOR INFORMATIONAL PURPOSES. ADVISORY SERVICES ARE ONLY OFFERED TO CLIENTS OR PROSPECTIVE CLIENTS WHERE MISSION WEALTH AND ITS REPRESENTATIVES ARE PROPERLY LICENSED OR EXEMPT FROM LICENSURE. PAST PERFORMANCE IS NO GUARANTEE OF FUTURE RETURNS. INVESTING INVOLVES RISK AND POSSIBLE LOSS OF PRINCIPAL CAPITAL. NO ADVICE MAY BE RENDERED BY MISSION WEALTH UNLESS A CLIENT SERVICE AGREEMENT IS IN PLACE.
MISSION WEALTH IS A REGISTERED INVESTMENT ADVISER. THIS DOCUMENT IS SOLELY FOR INFORMATIONAL PURPOSES, NO INVESTMENTS ARE RECOMMENDED.
00490401 12/22