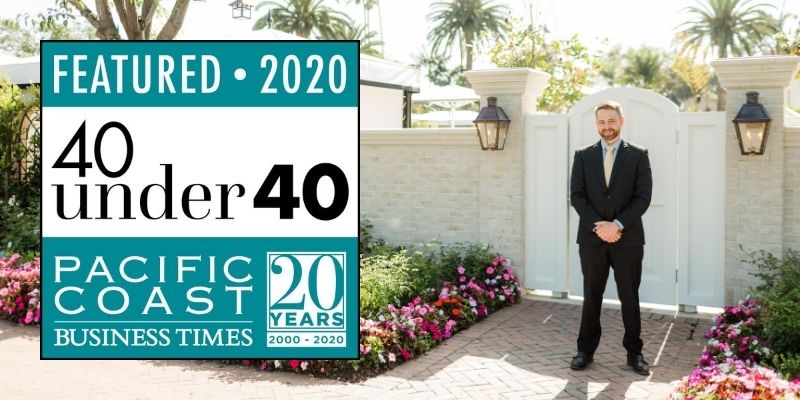 ---
---
The Pacific Coast Business Times announced the honorees of the 20th annual 40 Under 40 awards last week, naming Mission Wealth Client Advisor Wes Patton to the 2020 list. This year the Business Times selected the region's top up-and-coming professionals under the age of 40, in an array of industries including finance, professional and other business services, real estate, technology, nonprofits, health care and education.
Wes has over 6 years of experience in the financial industry, and is a certified financial planner having attained the CFP designation. He has also achieved both his Masters in Business and Masters in Financial Planning.
"I am excited to represent Mission Wealth this year to receive this award, and grateful to be with a firm that truly focuses on our team members' and clients' overall success, development, and well-being" said Wes.
The 40 Under 40 special report has proven to be a sustainable way to recognize up and coming leaders in the community. Many prior winners are rising up to the executive ranks at regional companies and nonprofits and this year the class is expected to follow in those footsteps. Each year the selection process becomes more and more competitive, with twice as many nominations as they select. The nominees are selected in order to maintain the right balance between the tri-counties, while achieving as diverse a group as possible.
The three requirements to be considered for this selection include: 1) Be under the age of 40 at the time of nomination close; 2) Be a resident of or a person whose business or volunteer efforts are based in the tri-counties; 3) You can only be honored once. In picking winners, they consider professional accomplishments, outside recognition and community involvement. They look for people who have gone above and beyond by taking leadership roles in their organizations or by starting their own companies.
Pacific Coast Business Times will be celebrating the 2020 class of 40 Under 40 at a very special dinner at the Topa Tower Club but the date is to be confirmed.
00374655 09/20