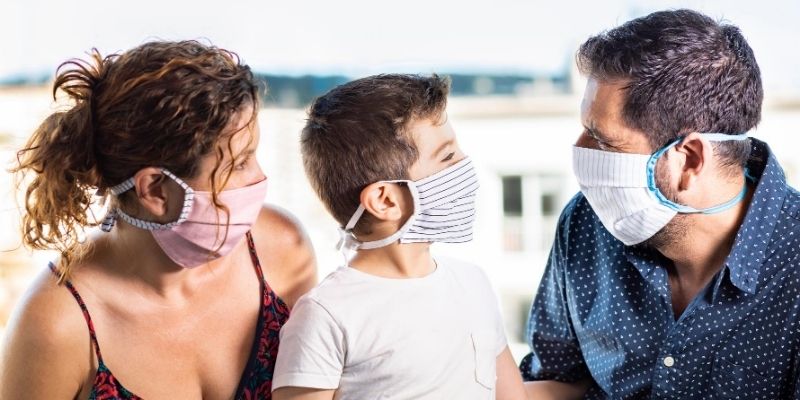 There's still time to reschedule that family reunion or a big trip that was cancelled during quarantine. And there are still plenty of ways to vacation safely with loved ones of all ages if you take these reasonable precautions.
---
Adjusting around the things we can't do safely has been a major focus for all of us during the pandemic. However, as summer winds down, you and your family might want to start thinking about what you can still do together before the end of the travel season.

Plan appropriately for your mode of transportation.
Staying close to home is still the safest travel option during coronavirus. Driving short distances maximizes the time that you and your family remain in your own bubble. Travelling on familiar roads also minimizes surprises and gives you a chance to plan out essential stops for food, fuel, and restroom breaks.
If you do decide to fly or take a long train ride, treat airports, stations, cars, and cabins like you would any other enclosed public space. Wear a face mask. Try to stay at least six feet away from anyone outside your household. Don't crowd into public restrooms or restaurants. Avoid high-touch structures like railings and water fountains. And carry a couple extra bottles of hand sanitizer with you in case you can't get to a sink.
For more travel tips that are specific to particular modes of transportation, check out this guide from the CDC.
Prepare for different local safety rules.
Every community is handling Covid-19 in different ways. If you're not currently wearing a face mask when you leave the house, check what regulations are in place at your travel destination. According to AARP, 34 states currently have mask requirements. Some communities do make exceptions for people with medical conditions. Others are issuing fines for not wearing masks in public places.
You should also be prepared for new procedures at familiar spots. Many theme parks are requiring masks, performing mandatory temperature checks on guests, and limiting how many people are allowed inside at a given time. Some attractions might be closed. Capacity might be limited in restrooms, which means longer lines. And your meals might be limited to "grab-and-go" options to keep people from crowding around restaurants.
Travel (and stay) within your bubble.
In a pandemic environment, certain destinations are going to be higher stress than others. You might spend your whole theme park vacation trying to keep your kids away from other kids and worrying if your grandparents will have a safe spot to get out of the sun for a bit. Even a spacious hotel is still a public indoor space where you'll probably have to wear a mask. Air travel is enough of a hassle under normal circumstances. Now imagine trying to keep your family away from other families while you're racing to catch a flight or fighting with a grumpy toddler about keeping his mask on.
On the other hand, home rentals allow you and your family to take your household bubble with you on vacation. Spend a week at a beachfront condo or a woodsy cabin and you'll have plenty of space to roam with built-in social distancing. Home rentals are also a great option if you're trying to get your extended family together. Each household can rent its own home for essential indoor activities and everyone can come together outside while maintaining some safe space.
How Mission Wealth Can Help
Of course, yours isn't the only family that's trying to squeeze some last-minute fun out of this unprecedented summer. If you need help figuring out how your family travel plans might impact your budget for the remainder of the year, let's schedule a virtual chat.
00376556 09/20
---