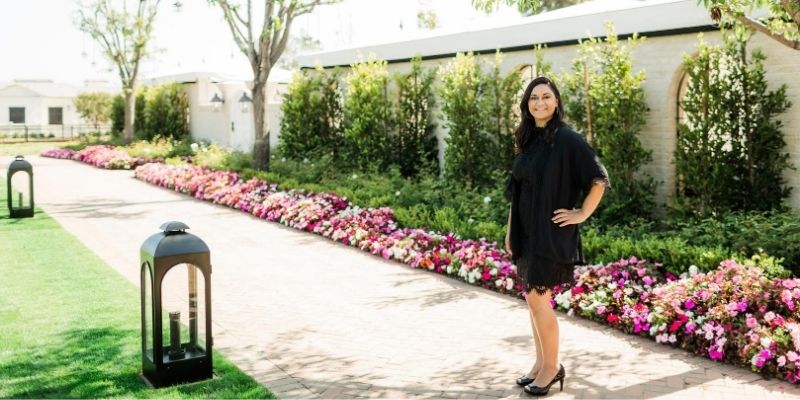 ---
Mission Wealth's Spotlight on the Team for October 2020 is Client Service Representative, Tawny Kauka! Tawny has been with Mission Wealth since 2018 and in this interview she talks about her childhood experiences that formed who she is today. She also talks about her love for her family, her favorite team - the Lakers, and explains her artistic side. Learn more about Tawny in this interview!
What are a few childhood experiences you had that formed who you are today?
I was the third of four children, born and raised in Santa Barbara, California. My mother is of Irish and Cherokee descendant from Santa Barbara, while my father was born and raised in Hilo, Hawaii. While my mother took a trip to Hilo to visit her sister she met my father, and the rest is history.
Everybody in life goes through a path, in which helps shape them into who they are today. The best way to describe my path is positivity. It's easy to focus on the negativity, but it is more rewarding to focus on the positive. I have always been a very positive person and I love life. I grew up playing every sport, being the goofy one in my family, while also being the strongest; my mother has been known to call me "the rock of this family". I take every experience in life as a stepping stone to strengthen myself and to be more resilient. Because of my background, the best word to describe who I am is 'authentic'. When I was younger, I always thought I would have my own non-profit organization. I think that authenticity is necessary for non-profits, but it's becoming more wide-spread across different businesses and industries. This means that I can be myself and provide genuine value to others, knowing that helping people is who I am.
How do you like to spend time outside of Mission Wealth?
Outside of Mission Wealth I love spending time with my two beautiful daughters. Together we love art, sports, games, hiking, anything hands on, outdoors, and just learning. My girls are hungry to learn so we have a lot of adventures. I am very blessed to be able to shape two strong beautiful girls.
Are you a raving fan of anything?
I am definitely a Lakers fan and always will be as Kobe has left such a legacy. As far as school goes not only am I a Santa Barbara native but I am also a UCSB alumni, so it's only natural to be a UCSB fan!
What's something interesting that people don't know about you?
I am very artistic. I love poetry. I have a whole binder of poems I wrote in my younger years and still enjoy writing. I also used to want to be a fashion designer, so of course I like to sew.
I also have a country soul; I absolutely love country music and I secretly wish that I was a country girl who grew up on a farm. Lastly, I have an adopted brother we adopted when he was 6 whom we have watched grow into a wonderful man. My daughter was the flower girl at his wedding!
If you could offer any advice to your younger self, what would it be?
Not to worry so much. Trust in God, or what it is that you believe in, and live in the moment. We only get one life, so live it!
At Mission Wealth we talk people all the time about what their goals and aspirations are. So, what's on your bucket list?
Everyone's bucket list is different, and if I had received this question 10 years ago my answer would be so different. Today, the next thing on my bucket list is to be able to buy a home for my children - they deserve it.
Are you a part of any organizations or clubs? Tell us more about it.
Unfortunately the only organization I am associated with right now is the parent-teacher association (PTA), but I would love to be associated with more organizations. I have worked for non-profit organizations before, where children were my main focus.
What do you think makes you well-suited for your current role?
I think I am well-suited for my role right now because I love helping people achieve their goals. The best way to describe it is that I just love to help people.
Is there something about your personality that guides your approach?
I have always been, and will always be 100% myself. I am honest, loyal, and trustworthy. I would never be in a job that would not allow for me to be myself!
What are your favorite kinds of clients to work with and why?
I love working with everyone here at Mission Wealth. Why? Because we all have the same goal, happiness, and peace of mind!
What kinds of issues do you help your clients with, and what kinds of unique services do you provide to help them with these issues?
I feel as though I help our clients with peace of mind. If an issue does arise we are always here to help and will drop whatever we are doing to make sure they are taken care of.
Can you tell us a story about a client you helped and how you changed their life in a positive way?
When I first became a Client Service Representative (CSR) I was juggling a new role and working to be more confident in my experiences and position. I was assigned a client whose spouse had recently passed away. She is/was the sweetest woman, and although she was going through such a tough time in her life, she still knew that we had to get everything in order. I was tasked with changing every account and making sure she was able to act on each one of them.
Knowing that I was helping to take the weight off her shoulders pushed me to be better in my new role, as I knew that I needed to ensure that I was giving her 110% of my attention, and that I needed to be available if she needed me; no matter the time of day. Together, we ended up getting everything done correctly and the appreciation she had was so heartwarming. This experience was pivotal, and helped me to confirm that I was where I wanted to be. It perfectly blended my strengths as a CSR, as well as my drive and motivation to help others.
To learn more about the documents that Tawny may have needed to process for a client that's suffering the recent loss of a spouse, you can read this article: The ABC's of Estate Planning Documents. Please contact a client advisor with any questions. 
Give me one piece of financial advice you would offer clients.
To make sure you choose someone who helps you be the best you you can be.
What are some important things to consider when choosing a financial planner?
That you feel like you are receiving financial advice you can trust.
00376112 10/20
---