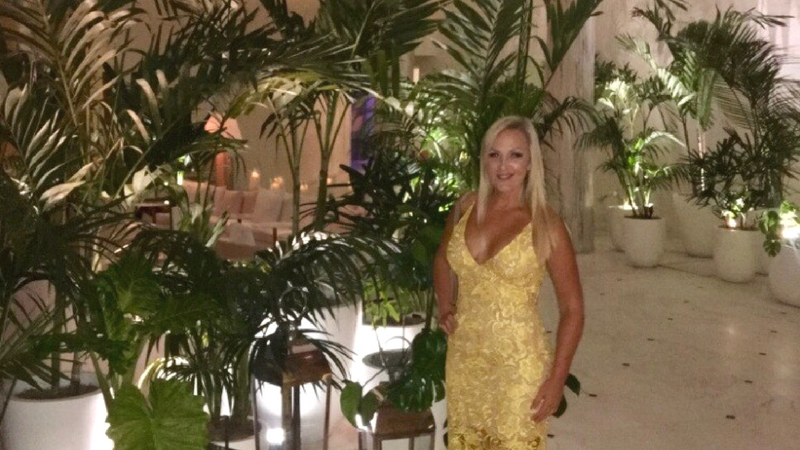 ---
The Spotlight on the Team interview for December 2017 is with Mission Wealth's Chief Marketing Officer Michelle Winkles. This month, she finished her MBA in Social Business, Nonprofit and Strategic Management from Antioch University, Santa Barbara, and at the same time celebrates her one-year work anniversary with the firm. In this interview, Michelle discusses her passion for community involvement, her love for country music, and some of the new initiatives Mission Wealth will be focusing on in the upcoming year.
What are a few life experiences you've had that formed who you are today?
Growing up I was always a part of strong, impactful clubs or teams that made some kind of difference in the community. When I was a Girl Scout at a young age, I not only sold cookies door to door, but I remember being that one girl who completed every patch achievement in the "brownie handbook." I learned at that time that it wasn't just achieving the "patch" that made me happy – it was the work that went into getting it and the impact I had made doing it.
I also competed in a club swim team in elementary school which brought out the competitive side in me. I learned important values such as team cohesiveness, punctuality, and goal-setting.
I was also a varsity cheerleader throughout high school. For 4 years, I was actively involved in fundraising to support all our school's athletic teams, and raised money for important causes while planning events around them.
Fast forwarding to today, I just completed my MBA, which taught me a lot in regard to public speaking, strategy, business, leadership, finance, and economics. This all went hand in hand with my role at Mission Wealth – supporting both my growth and the firm's initiatives.
How do you like to spend time outside of Mission Wealth?
The past year and a half has been focused around my education. As I mentioned, completing my MBA has been my top priority outside of work. I got engaged a year ago on New Year's Day in Hawaii. So wedding planning has also been a big "time-consumer." I plan to focus more on this over the next 2 months until the big day comes! Other than that, I enjoy working out, hiking, snowboarding, going to concerts and traveling.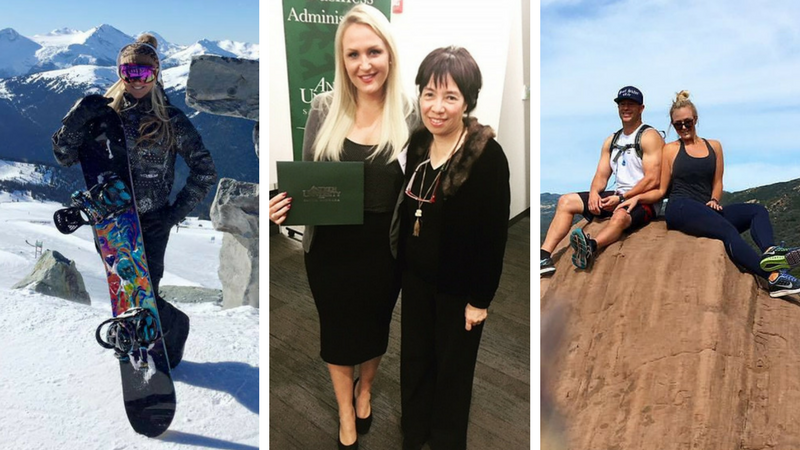 Are you a raving fan of anything – like a sports team or band or school? And why?
My fiancé is more of the raving fan than I am of sports. Because of his love for Dodgers baseball and Chargers football, I have naturally became a fan as well. I've always been a music fan and enjoyed going to concerts. I grew up in the 1980s and my parents taught me to love the classics, such as Guns and Roses, Led Zeppelin, Tom Petty, Aerosmith, and Fleetwood Mac. But I have to say, over the past few years I have gravitated more toward country artists such as Blake Shelton and Eric Church.
Do you have any pets? Are you a dog or a cat person?
I have 2 dogs – a 16-year-old Chihuahua named Haley (named off the street I found her on as a puppy) and a 6-year-old Jack Russell/ Pitbull mix named Axel (who has striking similarities to the singer Axl Rose). I have always had dogs growing up and have never really been much of a cat person (I like them but I am allergic to them unfortunately).
What's something interesting that people don't know about you?
One thing most people don't know about me is that I am a cancer survivor. I had melanoma when I was 17 (my senior year of high school). There wasn't a history of cancer in my family so I didn't know much about it.
I found out I had it one day when I was getting my hair done for prom and my hairdresser told me that I should get my scalp checked because she noticed a strange mole. My mom scheduled a doctor's appointment for me and that turned into CT scans, several surgeries, lab work, and a final major surgery.
Today, I get checkups every 6 months and still have to get irregular moles removed for preventative maintenance. I strongly advise everyone to see a skin doctor often to save your life!
If you could offer any advice to your younger self, what would it be?
I'd say to not care so much about what other people think. It's okay to be yourself and let go of toxic people and habits. If you have a gut feeling about something, it is probably true and you should follow your heart. Also, make sure to always take care of your health because – in the end – your life depends on it.
At Mission Wealth we talk to people all the time about what their goals and aspirations are. So what's on your bucket list?
My next goal is to buy my first home next year after I get married. It is something I never thought could happen but now that I have a financial adviser (through Mission Wealth) I learned that with investing, expense cutting, eating out less, and proper budgeting – that my goals ARE attainable!
Are you a part of any organizations? Tell us more about it.
With more time on my hands in 2018, I plan to be a committee member for the Fairview Gardens Farm to Table Dinner. I also plan to join the Women's Fund of Santa Barbara and am looking into joining the Junior League of Santa Barbara. Additionally, I've been asked to co-teach Marketing Strategy at Antioch University – so basically I have a pretty busy year ahead of me!
What do you think makes you well-suited for your current role?
I would have to say a combination of my upbringing being a part of impactful teams, my education, and my 12 years of marketing and leadership experience at different organizations. I truly enjoy working for a company that gives back to the community as much as it does while helping our clients live their best lives. It warms my heart to learn about all of the impactful nonprofit organizations across the Pacific West Coast. Without being a part of Mission Wealth I would not have been exposed to all of these organizations or a team that truly feels like family.
Is there something about your personality that guides your approach?
I am a goal-setter, very task-oriented, organized and love all aspects of strategy in general. This enables me to tackle many responsibilities at the same time while pushing the firm's strategic initiatives forward.
What major projects and initiatives are going to be the company's focus in the coming years?
I am excited for continuing to evolve our digital marketing presence on our website, re-brand our collateral, and launch new services. One in particular is our Inspired Living service – which enables our clients to live more impactful lives, find more joy and satisfaction in their daily lives, and find their inspired life purpose!
999218 12/17
---