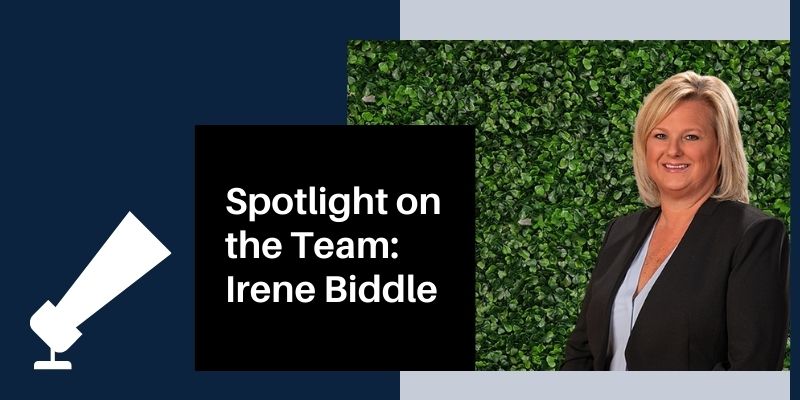 ---
Each month at Mission Wealth, we interview a new team member and publish the interview in a spotlight article. This month we talked to Client Service Representative
Irene Biddle
and learned about her role at Mission Wealth, her family, and what's on her bucket list. Learn more about Irene in this interview.
---
What do you think makes you well-suited for your current role as a Client Service Representative?
I am very detailed and organized person. I am a go-getter and a team player. I will do whatever I can to make sure things get done and I will offer to help anyone out whenever needed. I am always willing to learn whatever I don't know to better myself in my role.
Is there something about your personality that guides your approach?
I'm a very personable person with a big heart. I always have a positive attitude and I find myself always making the best of everything regardless of what is going on.
What are your favorite kinds of clients to work with and why?
I love working with clients who need our help. I love the feeling knowing that I was able to help them with whatever they were struggling with, from something so simple to something so complicated.
What are a few childhood experiences you had that formed who you are today?
Family means everything to me. I grew up in a small Ukrainian family with one younger sister and we did everything together as a family, from traveling, watching TV, to eating at the same dinner table together. We still do the same with my 2 daughters. My parents came to the United States with very little and worked hard for everything they have. If they had taught me one thing, it is to appreciate what you have in life, because others are not as fortunate as we are. They also taught us not hold grudges because you don't know what tomorrow will bring.
How do you like to spend time outside of Mission Wealth?
My main enjoyment is watching my youngest daughter, Meagan, compete. She is a Division 1 athlete and runs Cross Country as well as Track & Field on a full scholarship at Northern Illinois University. Her specialty is the mile. She received over 100 offers to run in college including offers from Texas A&M and the University of New Carolina, however she chose to stay close to home. Additionally, I love to travel and explore new cities and countries with my husband, John. During Covid-19 I became an avid biker. I usually bike anywhere from 80 -100 miles per week when weather is permitted and I also bike indoors when it's like -13 here in Illinois. I also love spending time with my eldest daughter Natalie, binge watching TV shows and movies on Netflix and relaxing with my maltipoo, Wrigley.
Are you a raving fan of anything – like a sports team or band or school?
My family and I are big Chicago Blackhawks and Chicago Cub fans.
What's something interesting that people don't know about you?
I am Ukrainian and I grew up going to Ukrainian school and dance school when I was younger. I also have only missed two of my daughter's races in ten years.
If you could offer any advice to your younger self, what would it be?
That you can do whatever you set your mind to. Stop saying you can't when you really can. The sky is the limit.
At Mission Wealth we talk to people all the time about what their goals and aspirations are. So what's on your bucket list?
Travel the world. My husband works for American Airlines, so that's the goal. London, Greece and Italy are the 3 on my list for now. I would also love to do a triathlon.
---