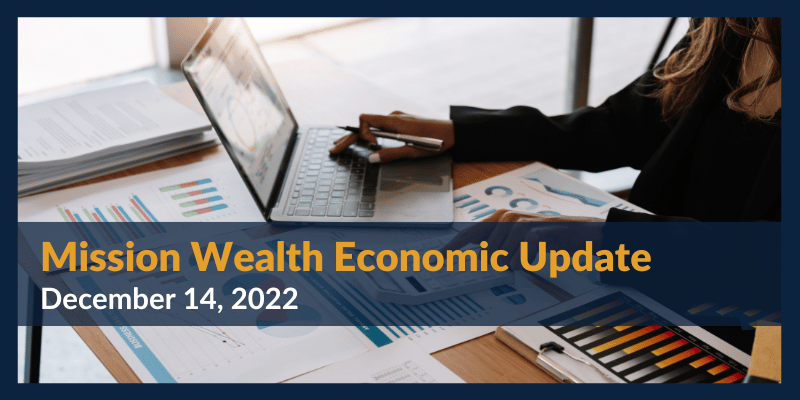 As was widely expected, the Fed raised the fed funds rate by 0.5% today, bringing the target to 4.25-4.50%. This marks a slowed pace of interest rate increases, with the Fed previously raising the fed funds rate by 0.75% in each of the June, July, September and November meetings. At the subsequent press conference, Fed Chair Powell reiterated the view that current policy still isn't sufficiently restrictive and played down the idea of rate cuts in 2023. The stock market reversed earlier strength and finished Wednesday lower, with the S&P 500 down -0.61%.
Client portfolios remain highly diversified with the intention of creating current cash flow for today's needs and capturing future growth opportunities as an inflation hedge. We believe a combination of stocks, bonds, and alternative income-generating assets provides portfolio balance and helps optimize risk-adjusted returns.
Strong Labor Market, Sticky Inflation
The Fed's statement spoke to the continued strength of the labor market, noting that job gains have been robust in recent months, and the unemployment rate has remained low. The Fed also marginally increased its expectations for economic growth this year. At the same time, inflation has held stubbornly high, albeit improving marginally over recent months. Notwithstanding, the Fed continues to anticipate inflation will remain elevated and above its long-term target of 2% for the foreseeable future. In fact, based on its "dot plot" summary of economic projections, the Fed increased its expectations for inflation for this year and in 2023 and 2024, relative to what was previously anticipated in September.
Increased Guidance for Future Rate Increases
With an economic backdrop of a tight labor market and sticky inflation, the Fed feels compelled to raise rates further to rein in inflation. Indeed, the Fed has again increased its expectation for how high interest rates will need to rise in 2023, increasing its forecast for the fed funds rate to 5.1% from the 4.6% it previously anticipated. This was above the market's expectation of ~4.9% ahead of the announcement. The Fed also raised its expectations for the fed funds rate in both 2024 and 2025 relative to prior expectations.
---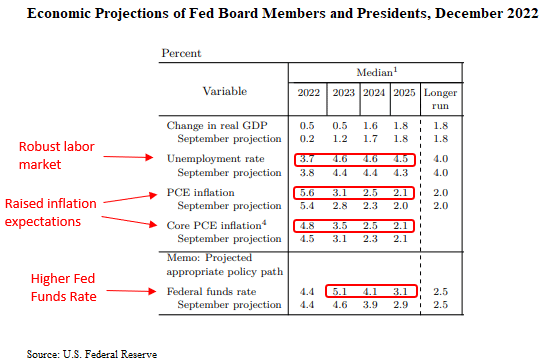 Structural Shift Underway
Today's announcement supports the narrative of a structural shift in monetary policy in the years ahead. Whereas the years following the Global Financial Crisis of 2008 were marked by easy monetary policy – low interest rates and quantitative easing – we believe the years ahead will be marked by tighter policies – higher interest rates and quantitative tightening.
With this backdrop, we anticipate a moderation in equity market returns from the very high levels experienced leading into 2022 (for example, the 10-year annualized return on the S&P 500 ending 2021 was 16.5%). This is not to say we're bearish on the outlook for stocks, as we're not. We believe there may be attractive near-term upside from current levels, but over the long haul, we think expectations should be reset for stocks to produce mid-to-high-single digit returns, lower than previous years but more consistent with historic averages.
Bond yields are a lot more attractive today and we are constructive on the outlook for bond market returns from current levels. We also think alternative income-generating asset classes may produce enhanced risk-adjusted returns in the years ahead. These asset classes offer the potential for attractive returns and income streams, with less volatility and a lower correlation to the stock market.
---
We continue to monitor developments closely and believe our portfolios are well-positioned to navigate the current environment. As always, should you have any questions please do not hesitate to contact your Client Advisor.
---
---
ALL INFORMATION HEREIN HAS BEEN PREPARED SOLELY FOR INFORMATIONAL PURPOSES. ADVISORY SERVICES ARE ONLY OFFERED TO CLIENTS OR PROSPECTIVE CLIENTS WHERE MISSION WEALTH AND ITS REPRESENTATIVES ARE PROPERLY LICENSED OR EXEMPT FROM LICENSURE. PAST PERFORMANCE IS NO GUARANTEE OF FUTURE RETURNS. INVESTING INVOLVES RISK AND POSSIBLE LOSS OF PRINCIPAL CAPITAL. NO ADVICE MAY BE RENDERED BY MISSION WEALTH UNLESS A CLIENT SERVICE AGREEMENT IS IN PLACE.
MISSION WEALTH IS A REGISTERED INVESTMENT ADVISER. THIS DOCUMENT IS SOLELY FOR INFORMATIONAL PURPOSES, NO INVESTMENTS ARE RECOMMENDED.
00488282 12/22