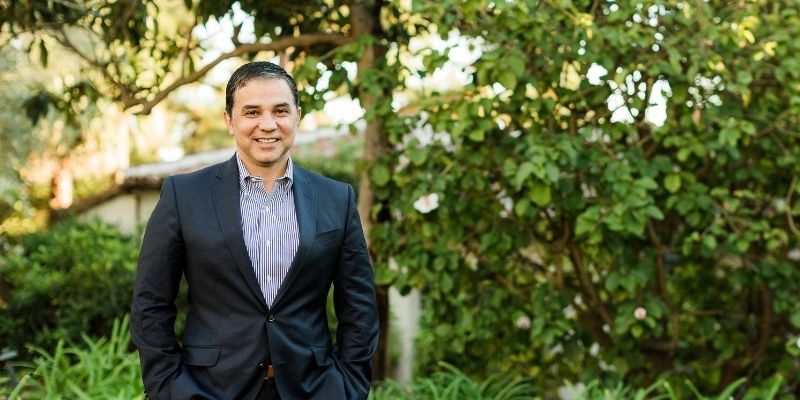 ---
The Spotlight on the Team interview for October 2017 is with Client Advisor, Rick Gonzalez, who is based out of our Los Angeles office. At Mission Wealth, Rick develops investment, estate, and financial planning strategies to best meet clients' current and long-term goals. In the interview, Rick talks about his experience with Tae Kwon Do, and the joy he finds in helping others. He also provides a useful tip on how you can improve your finances.
What are a few childhood experiences you had that formed who you are today?
One of my uncles worked at Edward Francis Hutton. As a Christmas gift he purchased two shares of EF Hutton Stock for me when I was 5 years old. I began to follow the stock price in the Los Angeles Herald Examiner's Business Section and also became aware of other stocks that were trading on the NYSE. This really began a passion and love of the markets for me that has carried on to this day. I was bitten by the stock market bug, and I have been in love with it ever since.
How do you like to spend time outside of Mission Wealth?
Two things. First, I am a gym rat. I'm usually at the gym during the work-week at 6:00 a.m. It's a good way for me to re-charge, and feel prepared and refreshed to begin the work day. Another one of my activities is reading. On the weekend, I get up and go to my favorite local coffee house in South Pasadena and take my Kindle with me. I'll sit there for hours enjoying a cup or two of coffee and reading my book of choice.
Are you a raving fan of anything – like a sports team or band or school? And why?
Oh absolutely! I am a HUGE Laker fan – I have been since the days of Jerry West and Wilt Chamberlain. We've had a rough couple of years, but I can't complain. I have witnessed eleven NBA Championships as a Laker fan in my lifetime. I am very optimistic and excited for this upcoming season!
What's something interesting that people don't know about you?
Back in college I was a member of UC Berkeley's Tae Kwon Do Team. I qualified and competed in the 1986 NCAA Collegiate National Tae Kwon Do Championships.
If you could offer any advice to your younger self, what would it be?
Focus on what you can control, and don't worry about what you cannot.
At Mission Wealth we talk to people all the time about what their goals and aspirations are. So what's on your bucket list?
I began visiting Lake Tahoe in during my college years in the Bay Area. I go back there every summer as it is one of my favorite places anywhere. I've always envisioned having a place there, maybe not to live year round but during the summer when all is said and done.
What do you think makes you well-suited for your current role?
I've always been interested in helping people, whether it be volunteer work or in my occupation. Having a strong sense of being a champion for my clients is really what drives me in this role.
What does a day of work look like to you?
Get up early and hit the gym! I am then off to the office to review what's on the docket for the day. This usually includes client meetings, working on a financial plan or investment model, and getting updated on the current stock and bond market scenarios
What are your favorite kinds of clients to work with and why?
Clients who know that the planning side of wealth management is just as important as the investment side. Wealth, Risk, Investment, and Tax Planning are at the heart beat of true Wealth Management, and a focus on all of these things is important.
What do you think are the most important things people can do to improve their finances?
Track your expenses. You have to know where your money is going or else your money is going to go. It's not necessary to track to the exact penny, but having a solid understanding of your fixed and variable expenses will help significantly. If you have ever witnessed an individual who watches what they eat, they track their intake of calories, protein, carbohydrates, etc. This helps to gauge things more realistically and ultimately you will have a better chance of reaching your goal. This is exactly the same principle as tracking your money.
What is a subject or area of finance that not many people know a lot about, but understanding it could really help their financial picture?
Behavioral Finance - a field that looks to combine behavioral and psychological theory with conventional economics and finance to provide explanations as to why people make irrational financial decisions. Because of behavioral finance, the common axiom "Buy low, sell high" often ends up in investors "Buying high and selling low."
Rick Gonzalez is a Client Advisor at Mission Wealth and has been with the firm since 2014.
981225 10/17
---