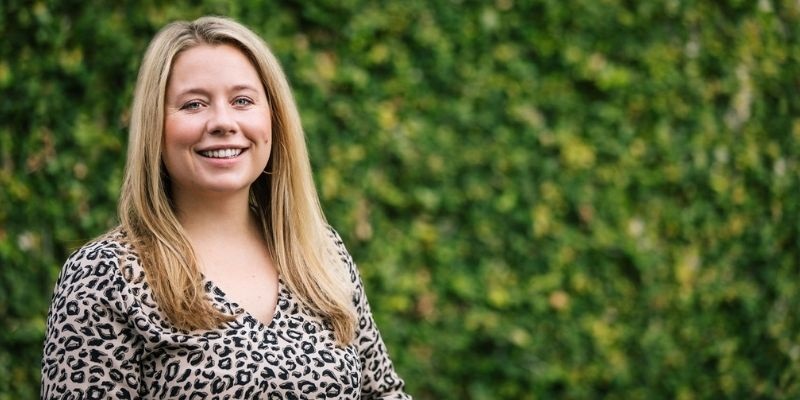 ---
This month's team spotlight is on our newest marketing team member, Helena Gould. Helena joined the team in August 2020 and has held a variety of roles within marketing over the last 9 years. In this interview Helena discusses her hobbies, passion for marketing, and equal love of traveling and Justin Timberlake.
What are a few childhood experiences you had that formed who you are today?
Throughout my life, I've challenged myself to learn new skills. Whether that was enrolling in public speaking classes in high school or studying abroad in college, I like to learn new things through experiences. In particular, I enjoy traveling in order to meet new people and experience different cultures. In recent years, I've been fortunate to go to Bali, Peru, Iceland, Ireland, Ecuador and the Galapagos Islands.
Are you a raving fan of anything – like a sports team or band or school?
I will always and forever represent my favorite Bay Area sports teams - the San Francisco Giants, San Francisco 49ers and San Jose Sharks. My family and I attended games at each of the local arenas throughout my childhood and I have fond memories of those experiences. Additionally, I really love Justin Timberlake. I know probably 95% of his music lyrics by heart.
How do you like to spend time outside of Mission Wealth?
Outside of work I enjoy cooking, reading and being active. In particular, I love participating in group exercise classes, hiking, going to the beach and dancing. My parents put me in dance classes around age 2 and I still participate in cardio hip hop classes. I've also recently started gardening. It's so rewarding to cook a meal with vegetables and herbs from your own garden.
What's something interesting that people don't know about you? 
I have a very large extended family. My mom is one of fourteen children and grew up on a farm in Mosinee, WI.
Are you a part of any organizations or clubs? Tell us more about it.
I've been involved with several nonprofits such as Animal Shelter Assistance Program (ASAP) and Big Brothers Big Sisters. Most recently, I've been a warehouse volunteer at Second Harvest of Silicon Valley. 1 out of 4 individuals in Silicon Valley is at risk for hunger so volunteering my time to sort, package, and deliver food to those in need has been rewarding.
At Mission Wealth we talk to people all the time about what their goals and aspirations are. So what's on
your
bucket list?
The number one item on my bucket list is to buy a home which my husband and I are looking to do in the next few years. I also have an extensive travel bucket list, which includes locations like Patagonia, Japan, Australia and New Zealand. Something that was once on my bucket list that I'm fairly proud of is running a marathon, which I completed in 2013.
If you could offer any advice to your younger self, what would it be?
Stop being concerned with other people's opinions of you and create your own path. Also, trust your gut reactions because they're probably right.
What do you think makes you well-suited for your current role? 
I would say a combination of my experience, education, and work ethic. I am organized and task-oriented and can tackle a variety of responsibilities while managing my time efficiently. I love the creativity and science behind marketing, especially using data to make decisions that will advance the business. 
Is there something about your personality that guides your approach? 
I am highly motivated, goal-oriented, and always strive to do my best work. I also believe empathy is a strong skill of mine and like to put myself in our clients' shoes when designing a marketing campaign.
00378779 11/20
---