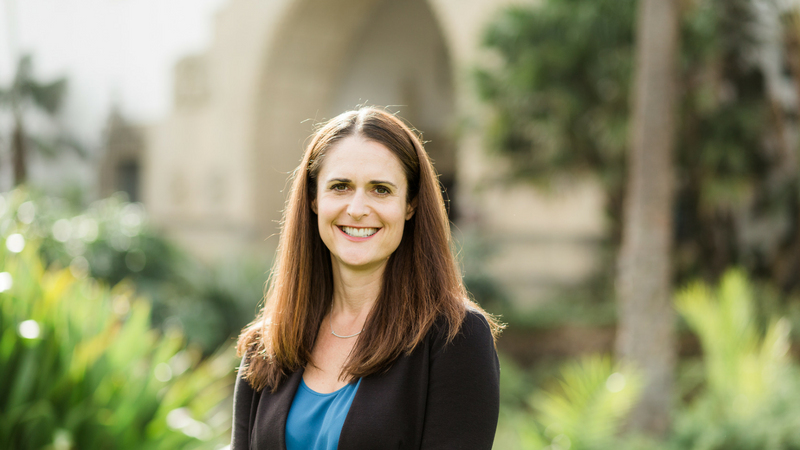 ---
Our February 2018 Spotlight on the Team is focused on Director of Business Development Dannell Stuart, who is a Client Advisor and a Partner with the firm. In this interview she tells of her lifelong love of travel, her interest in a certain Irish rock band and the satisfaction she feels being in the position to help others in her career.
What are a few childhood experiences you had that formed who you are today?
When I was young my family moved to England for 2 years. While we were there, we traveled all over the place. I remember being so intrigued by the different languages, cultures and foods. I caught the travel bug at a very young age! I continued traveling as much as I could throughout my youth. I was a foreign exchange student in Ecuador in High School and then I studied abroad in Spain in College. I have enjoyed planting that travel bug in my kids as well.
How do you like to spend time outside of Mission Wealth?
I love spending time with my family - husband Craig and son Will (13) and daughter McKenna (11). Our dog Bodie is everyone's favorite family member. I love exercise, reading, and of course travel and music. My dad lives in town and I feel fortunate to be able to spend a lot of time with him. We have wonderful neighbors and close friends who make our lives feel very rich. Our family is active in our church Ocean Hills and we love the community of friends that we have there.
Are you a raving fan of anything?
I am a raving fan of the band U2. Ever since college I've gone to see them each time they are on tour. My family gets annoyed sometimes – but I just can't get sick of their music!
Do you have any pets? Are you a dog or a cat person?
Definitely a dog person. I have had boxer dogs my entire life!
What's something interesting that people don't know about you?
When I graduated from college with degrees in Communications and Spanish, I wanted to go work for CNN in Latin America. I wanted to be the Christiane Amanpour of Latin America. As it turns out, I ended up in finance instead. That's a perfectly natural progression, right?
If you could offer any advice to your younger self, what would it be?
Be brave in asking for what you want, and don't worry about being vulnerable in front of others.
At Mission Wealth we talk to people all the time about what their goals and aspirations are. So what's on your bucket list?
My new goal is for our family to have one stamp in our passports each year. We'll pick a country and go!
Are you a part of any organizations?
I volunteer with the Women's Fund of Santa Barbara and with Ocean Hills Church. I feel honored to be able to give back to our community.
What do you think makes you well-suited for your current role?
I absolutely love what I do, and I love being in a position to help others. Even though this is not where I thought my career would take me, I cannot imagine doing anything else. The passion I have for my work combined with my affinity for numbers and my personal enjoyment of strong interpersonal relationships makes me very well suited to be a financial advisor.
Is there something about your personality that guides your approach?
I think I can be analytical and objective when weighing clients' different financial scenarios, yet I can also break things down into regular language that clients can absorb and understand. I am honest and truly care about the well-being of our clients.
What does a day of work look like to you?
In addition to serving on the firm's Executive Committee, I spend most of my time overseeing our Advisory Group. I am inspired by the drive and talent of our team members. Together, we are doing great work on behalf of our clients!
What are your favorite kinds of clients to work with and why?
I like working with pretty much everyone. The keys for a successful advisory relationship are open communication and mutual respect.
What do you think are the most important things people can do to improve their finances?
Live within your means (don't overspend).
Prioritize your spending based on what is most important to you.
Pay down debt.
Save as much as you can!
Also, people always underestimate how much they spend, so tracking expenses is very important. With regard to investments, take a long-term approach and stick to it. Work with an advisor to make sure your asset allocation is appropriate and the investments are tied to your goals.
What is a subject or area of finance that not many people know a lot about, but understanding it could really help their financial picture?
I think behavioral finance is very interesting. We all have money attitudes that we've had since our childhood. Whether you were raised with a lot of money or very little money, money may have represented freedom or luxury or guilt or power or control to you. Acknowledge your money fears and attitudes. Then, reframe your current financial life based on how money can help you achieve your goals and objectives. Sometimes we need to leave some of those skeletons (bad memories) behind in order to have true financial peace of mind today.
1020073 2/18
---