Claudia Arnold-Sawaf Receives Invest in Others Award for Charitable Work with Sabil USA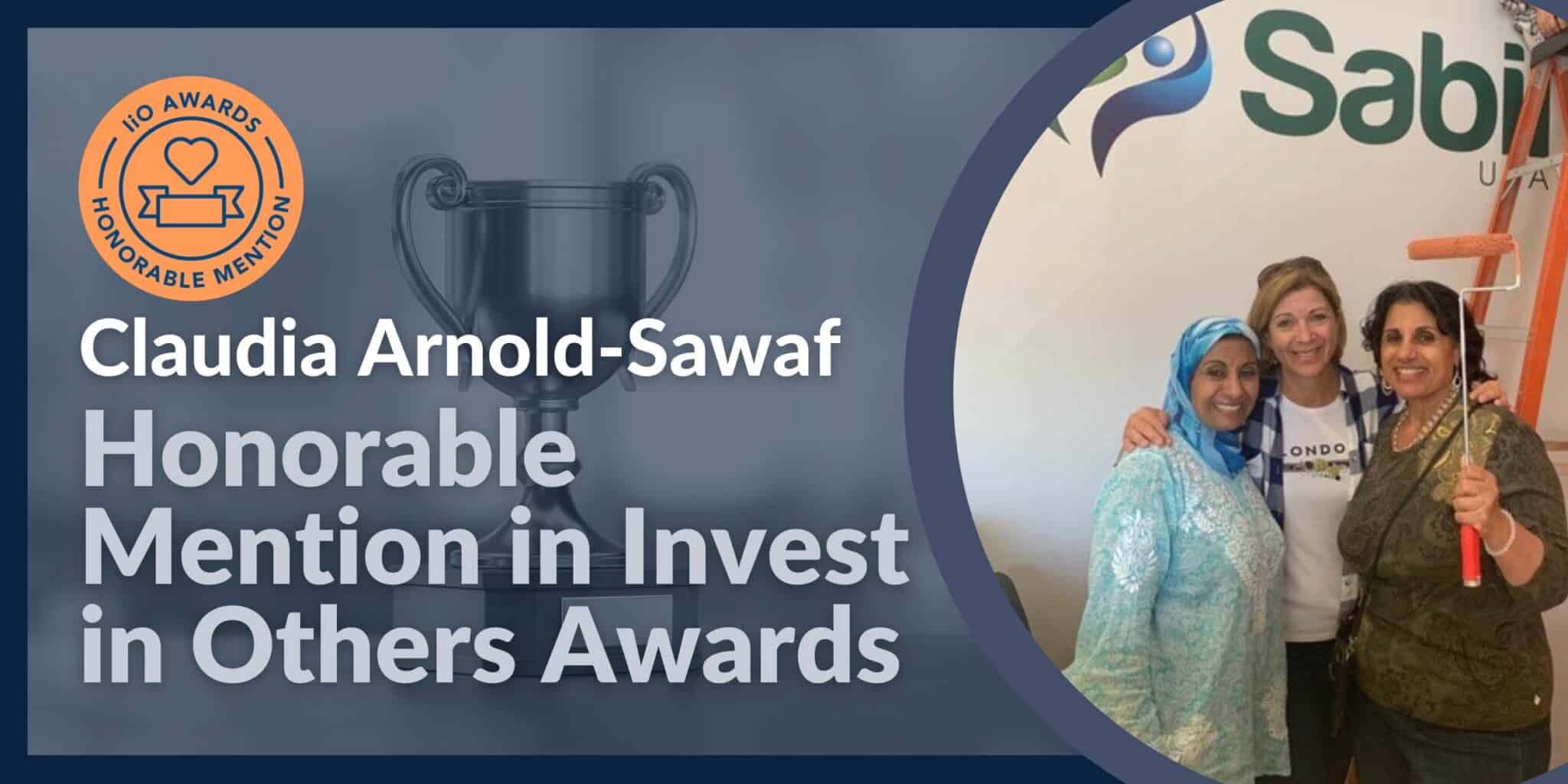 Mission Wealth Partner and Senior Wealth Advisor, Claudia Arnold-Sawaf received Honorable Mention for Volunteer of the Year in the 17th Annual Invest in Others Awards for her philanthropic contributions to Sabil USA. The Invest in Others Awards recognizes the charitable work of financial advisors in communities across the country and around the world.
Claudia's nomination was evaluated based on her leadership, dedication, contribution, inspiration, and impact to Sabil USA. She made a significant impact by working hands-on and giving of her time, talent, and energy, which speaks to the heart of the Volunteer of the Year Award and to the culture of philanthropy at Mission Wealth.
Sabil USA Receives $2,000 Donation from Invest in Others
As part of the application process, Claudia was asked about her proudest achievement through her work at Sabil. "As one of the many dedicated volunteers for Sabil USA since 2012, I enjoy contributing my expertise and time to help the organization provide culturally competent and nutritious food, mental health support, and housing security to marginalized families. My proudest achievement was helping Sabil establish its first endowment fund, which invested in the organization's financial security and sustainability for its various programs. It is truly rewarding to witness Sabil reach its nonprofit's $1 million budget and its ability to expand offerings." says Claudia. "But beyond financial accomplishments, it is the impact on people's lives that motivates me. Seeing the smiles on families' faces when they no longer have to worry about paying rent or putting food on the table for their children is priceless."
Sabil USA will receive a $2,000 donation from Invest in Others in recognition of Claudia's charitable work. Since 2012, Claudia has been hands on in various committees to help Sabil's fundraising initiatives, planned giving programs, and development, and she devotes at least 15 hours a month to her volunteerism. Claudia's contributions assist many programs such as planned food distributions, youth empowerment, strategic planning, annual fundraising, and being an ambassador for Sabil.
The Invest in Others Awards will be presented on September 20th in Boston in the following categories: Catalyst, Community Service, Emerging Impact, Lifetime Achievement & Volunteer of the Year.
About the Invest in Others Charitable Foundation
Invest in Others serves communities in need by providing critical support for nonprofit organizations. We channel the philanthropy and volunteerism of the finance industry into vulnerable communities and under-resourced causes. For more information, visit investinothers.org.
About Sabil USA
Sabil is a health and human services nonprofit that strives to improve an individual and family's quality of life by rapidly providing them with equitable food, health, and financial security with dignity and respect.
Since 2012, Sabil has served families 7.3 Million pounds of nutritious food, 187,200 mental health and case management services, 85,000 families received financial assistance, and 240,000 volunteer hours by everyday people wanting to lend a hand. For more information, please visit sabil.us.
Financial Guidance For Your Life Journey
Talk with a financial planner about your next steps.
Guidance For Your Full Financial Journey
Through our comprehensive platform and expertise, Mission Wealth can guide you through all of life's events, including retirement, investment planning, family planning, and more. You will face many financial decisions. Let us guide you through your options and create a plan.
Mission Wealth's vision is to provide caring advice that empowers families to achieve their life dreams. Our founders were pioneers in the industry when they embraced the client-first principles of objective advice, comprehensive financial planning, coordination with other professional advisors, and proactive service. We are fiduciaries, and our holistic planning process provides clarity and confidence. For more information on Mission Wealth, please visit missionwealth.com.
To meet with a Mission Wealth financial advisor, contact us today at (805) 882-2360.
00528102 07/23