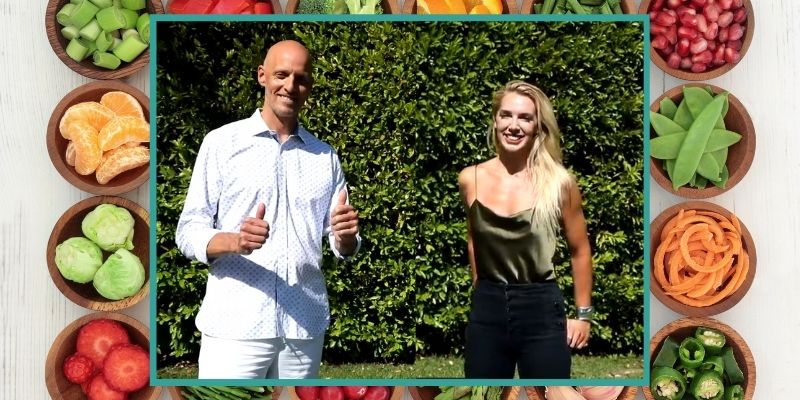 In this second step of the multi-part Inspired Living™ series, watch Nora Tobin and Seth Streeter as they present some powerful ways to support happiness and longevity through nutrition. Follow along as we release a weekly video, delving into the physical Dimension of Life™.
---
In this second part of the multi-part series, Nora Tobin explains the key factors that are needed in order to optimize your fulfillment and meaning within the physical Dimension of LifeTM. If you missed part one, click here.
Over the next few weeks, we will be releasing videos which will delve into each of these aspects of the physical dimension. Seth Streeter, CEO and Founder of Mission Wealth, discusses how these 11 Dimensions of LifeTM can be used to measure and optimize your Inspired Life.
Read some of our top takeaways and watch the video below for a deeper-dive.
About Nora Tobin
Inspired Living: Physical Dimension specialist
Nora is the Health and Wellness Partner to The Ritz-Carlton, The Ritz-Carlton Yacht Collection and Fortune 100 organizations; scaling corporate retreats, executive health coaching, virtual workshops and media campaigns. She is a Performance Enhancement and Nutrition Specialist, and editorial contributor to SHAPE magazine. Nora has received advanced certifications in helicopter, scuba and cliff rescue. Click here to learn more about Nora's virtual retreats and workshops, or watch the video here.
The Dimensions of LifeTM
There are many different ways to address and understand your physical Dimension of LifeTM. If you're looking to make some positive and healthy changes in your physical dimension, this focus on nutrition is a great place to start.

Nora Tobin's Top Tips for Optimizing Your Nutrition
Watch the video below to do a deeper-dive into each item.
Gaining a satisfaction without deprivation mindset.
It's good to know that you can be healthy without feeling hungry or deprived. Not only does this support your ability to be consistent in your diet routine, but you'll feel a LOT happier throughout the process.
Tip 1: Embracing Intermittent fasting.
This strategy has been around for thousands of years, and although the word 'fasting' can sound intimidating, you're actually just reducing the time that you allow yourself to. A common length of time to fast is for 16 hours, allowing you to eat normally within an 8 hour period. This is a popular method as it's flexible, and it allows for social eating and drinking - unlike more traditional 'diets', and doesn't need to be done every day.
In this time your body enters rapid cellular clean-up mode, which is similar to recharging your bodies batteries. Our bodies are not as distracted by digesting food, and can turn attention to repairing your body.
Tip 2: Cutting out or reducing processed foods.
Greatly lower your inflammation by cutting out processed foods. With the rise of take-out, we are more reliant on process foods, but they create significant and chronic inflammation, which is our bodies natural response when it feels attacked by an outside source. We can lower this by shifting out of those processed foods (even for just a couple of days a week), and your gut flora and serotonin will greatly benefit. Learn ways to reduce inflammation in the video below.
Tip 3: Addressing gut health.
This is an essential part of health and happiness. 80% of our serotonin is created in our gut, so we need to fuel the gut with healthy pre-biotics. Fermented items and other healthy bacteria can support our feelings of energy and positivity. Learn more tips for boosting your gut health in the video below.
---

Are you living your life in a way that brings you joy and meaning?
Join the Inspired Living™ movement to elevate your past, present and future. Let us introduce you to prominent thought-leaders, life coaches, and influencers who can work together with you to develop your customized life plan. We will give you curated resources, actionable advice and targeted strategies during your journey of self-discovery. Then we will align your multi-dimensional and multi-faceted life with your ultimate vision so that you can become the BestU™ in your life journey. Learn More.
---
Liked this content? Be the first to know about INSPIREDtalks by joining our email list. You'll be notified about upcoming thought-leaders, events, and speakers as soon as they become accessible to the public.
---