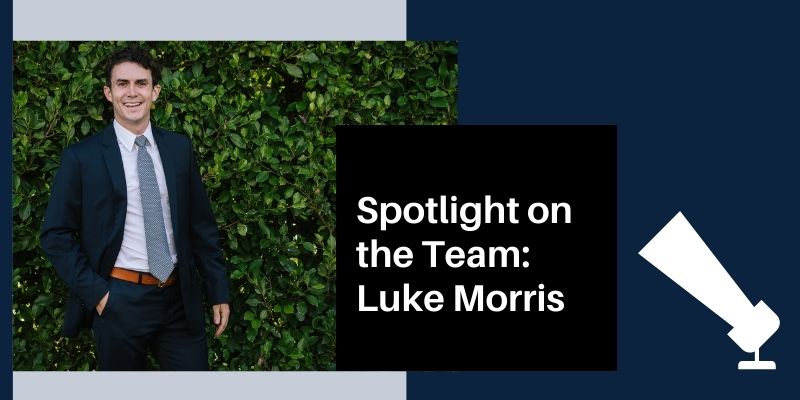 ---
Each month at Mission Wealth, we interview a new team member and publish the interview in a spotlight article. This month, we talked to Senior Client Advisor Associate Luke Morris and learned about his role at Mission Wealth, as well as his upbringing and memorable childhood experiences. Learn more about Luke in this interview.
---
Tell me about your role as a fiduciary financial advisor.
As a fiduciary we are trying to understand what it feels like to walk around in someone else's shoes. This helps us to understand how to act in another individual's best interest. We are lucky enough to cover many topics from family, tradition, successes and failures. It is our duty to take a wide scope of information and funnel it down to a solution that fits well within each person's unique plan.
Tell me about the Santa Barbara office.
Santa Barbara is a playground! I enjoy my time spent by the beach, in the mountains and walking the downtown area with friends looking for fun and fare. I cherish Mission Wealth for surrounding me with a great environment to be successful and happy. Many of the people employed within the last year have become my close friends through training. At the Santa Barbara office, we provide a range of support to all advisors and clients operating both locally and remote. We also have the best view in town!
What do you think makes you well-suited for your current role as a client advisor associate?
My mom and dad make me well suited for this profession. My mom is a registered nurse of 30+ years and my dad is a financial advisor of 40+ years. I have my mom's bedside manner and my dad's level head. My mom can read a room in seconds and my dad's quick wit can have you feeling like family in minutes. I am the sum of all their experiences and I'm lucky to be their son!
Is there something about your personality that guides your approach?
My PaPaws crafted my personality and guides my approach. They are fundamentally opposite. My mom's father is 80+ years old and president of his company. He wakes up before the sun and laughs at it setting. He teaches me hard work and devotion to family. My dad's father was a retired minister who spent all the years I knew him enjoying life, laughing, writing and celebrating everything given to him by the creator. His orator skills were unmatched. Their two definitions of leadership stick with me today.
What are your favorite kinds of clients to work with and why?
My MeeMaw & Nana practice more patience than any other people I know. They came from a different time where nothing was given. They appreciate every person in their path and offer everything they have in service to others. They are the least selfish, most compassionate ladies in my life. Need I say more? Grandmas are the best.
As a financial planner, how do you help clients?
The human race has been successful for thousands of years due to our ability to come together and make a plan! No matter how the cards may be stacked, having an open line of communication, advice, a roadmap or even a helping hand from someone else can make all the difference. A financial planner does just that – creates an open dialogue to diagnose what may be helping or hindering your probability of success, then builds a plan to remedy any pitfalls. We love it when a plan comes together!
What other kinds of issues do you help your clients with and what kinds of unique services do you provide your clients with to help them with these issues?
I have previous experience with the companies where we custody our assets. I believe I offer a unique advantage to our clients by understanding how the machine works. My goal is to make life easy and provide outstanding customer service. I believe this shows through any leg of the process from the initial planning, to implementation and the ongoing daily management.
Tell me an actual story about a client that you helped and how you effected their life in a positive way.
The success stories that come to mind are when you have the opportunity to work with someone during their last years. It is a reward for a planner to help someone at the end and also be around to see the legacy that has been left. Whether it is helping the beneficiaries, or seeing the fruits of charitable inclinations. It is a success to any planner to help someone through a life event of any magnitude for that matter.
What are a few childhood experiences you had that formed who you are today?
For a decade of soccer, I had one coach - Coach Mitchell. He taught me intuition from repetition. At one point he coached the school club team and the local club team. He drove me after the school club, to the local club practice where I would do the same drills, again. Some days I did not know if he liked or hated me but I believe he had a plan. As we moved into high school I remained small and fast. In the midfield, your role is distribution to the team often times setting others up to score. He forced me to play 1 and 2 touch. No dribbling. It frustrated me to no end. "I want you to know where you are playing the ball before you receive it." In fear of reprimand, I began getting rid of the ball so quickly no one had time to take it. If you have a strong plan and great team members to pass to, then the ball moves faster than you ever will.
How do you like to spend time outside of Mission Wealth?
I enjoy going to the beach with my dog Rusty. He is 9 years old and we have lived on the Atlantic and Pacific coasts. I grew up cooking and working in restaurants. You can find me in the kitchen using all the great ingredients California has to offer. My brothers live in Chicago and New York. I spend vacation time flying to visit them. My area has a 100 walking score and often times you'll find me on a stroll in downtown or scooting around on my Yamaha.
Are you a raving fan of anything – like a sports team or band or school?
The Tennessee Titans came to Nashville in the late 90's and immediately made a Super Bowl appearance. To a young boy who got to watch the games in person, it was love at first sight. I spent several years working in Nashville after college. My grandpa and I have made forever memories in that stadium.
What's something interesting that people don't know about you?
I'm a good climber, a table tennis amateur and I like to sing.
If you could offer any advice to your younger self, what would it be?
Turn off the TV.
At Mission Wealth we talk to people all the time about what their goals and aspirations are. So what's on your bucket list?
My bucket list involves having a farm with animals and crops. I would enjoy growing what I eat and taking care of livestock. I dream about where I may buy that piece of land.
Are you a part of any organizations or clubs? Tell us more about it.
The Big Brother Mentor Program of Santa Barbara. I get to spend time with a cool young man whose mother attends the university. We go to the beach, play sports, talk life and usually find a taco. Having two brothers allows me to know the effect a mentor can have on today's youth and my buddy teaches me as much as I teach him.
Give me one piece of financial advice you would offer clients.
You can't take it with you. Invest, spend and give!
Give me one piece of professional advice you would offer someone looking to be in a role like yours.
If you can't be in the right place at the right time then go to the right place and wait!
What is a subject or area of finance that not many people know a lot about, but understanding it could really help their financial picture?
The history of the US stock markets. While it may be a dry subject it can be helpful in understanding how it has evolved into the engine of today. My takeaway is that every single year that passes new laws and acts are formed so that the consumer is more protected. This should give us a positive outlook for the future.
What are some important things to consider when choosing a financial planner?
Make sure you are working with someone who demonstrates care, loyalty and follows your instructions.
---