INSPIREDtalk
Un-Stuff Your Life with Andrew Mellen
---
Do you have a "stuff" problem?
---
With Mission Wealth's Inspired Living™ INSPIREDtalks, you can make now the ideal time to take charge of all that mess, change your mindset and refocus so you can live your best life today.
---
Do you have too much "stuff" in your life? If you find that you often say there's too much to do and not enough time, this 1-hour de-stress your mess organizing webinar with Andrew Mellen, clutter expert and author of Unstuff Your Life!, is just the event for you. Learn instantly about actionable ways to change how you think about and interact with "stuff." You'll discover how to re-energize your life by purging the nonessentials and refocusing on what really matters.
At Mission Wealth we know there's more to life than just your balance sheet. At this INSPIREDtalk we will focus on the environmental Dimension of Life™ by taking a deeper-dive into your home and the world around you. If you'd like to read more about the 11 Dimensions of Life™ you can find our blog here.
About Andrew Mellen
Andrew Mellen, author of "Unstuff Your Life! Kick the Clutter Habit and Completely Organize Your Life for Good", is a thought-leader in personal and professional organization strategies. He shifts perspectives away from comfortable norms and into what's truly valuable. Learn more about Andrew here.
Event Takeaways
Gain insight into how to organize your things and your life in ways that bring greater clarity, peace, joy and productivity.


Look at the "stuff" in your life through a new lens and understand the benefits of actively curating a philosophy of "less being more".


Learn actionable and tangible techniques and strategies to process all the "stuff" in your life, including physical, emotional, and psychological clutter.
Event Details
This event will be held on January 27, 2020 at 9am PST. The event will be hosted virtually and is open to all that would like to attend. When you sign up, you'll be given the opportunity to note questions that you'd like to ask the speaker.
---
---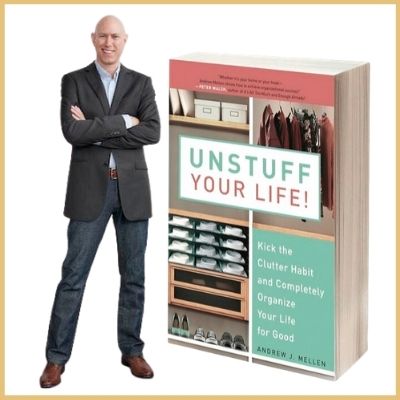 Like INSPIREDtalks?
Kick start your life by joining an Inspired Living™ Wisdom Share.
---
Join a 90 minute virtual Wisdom Share session to reflect upon the 11 Dimensions of Life™. Learn how to cultivate new areas of expansion, share your collective experiences amongst the group, and discover the valuable findings that others have uncovered throughout their lives. These popular Wisdom Share sessions include between 80 and 100 attendees, who will be collectively diving into this experiential program.
---